Images will automatically refresh every minute.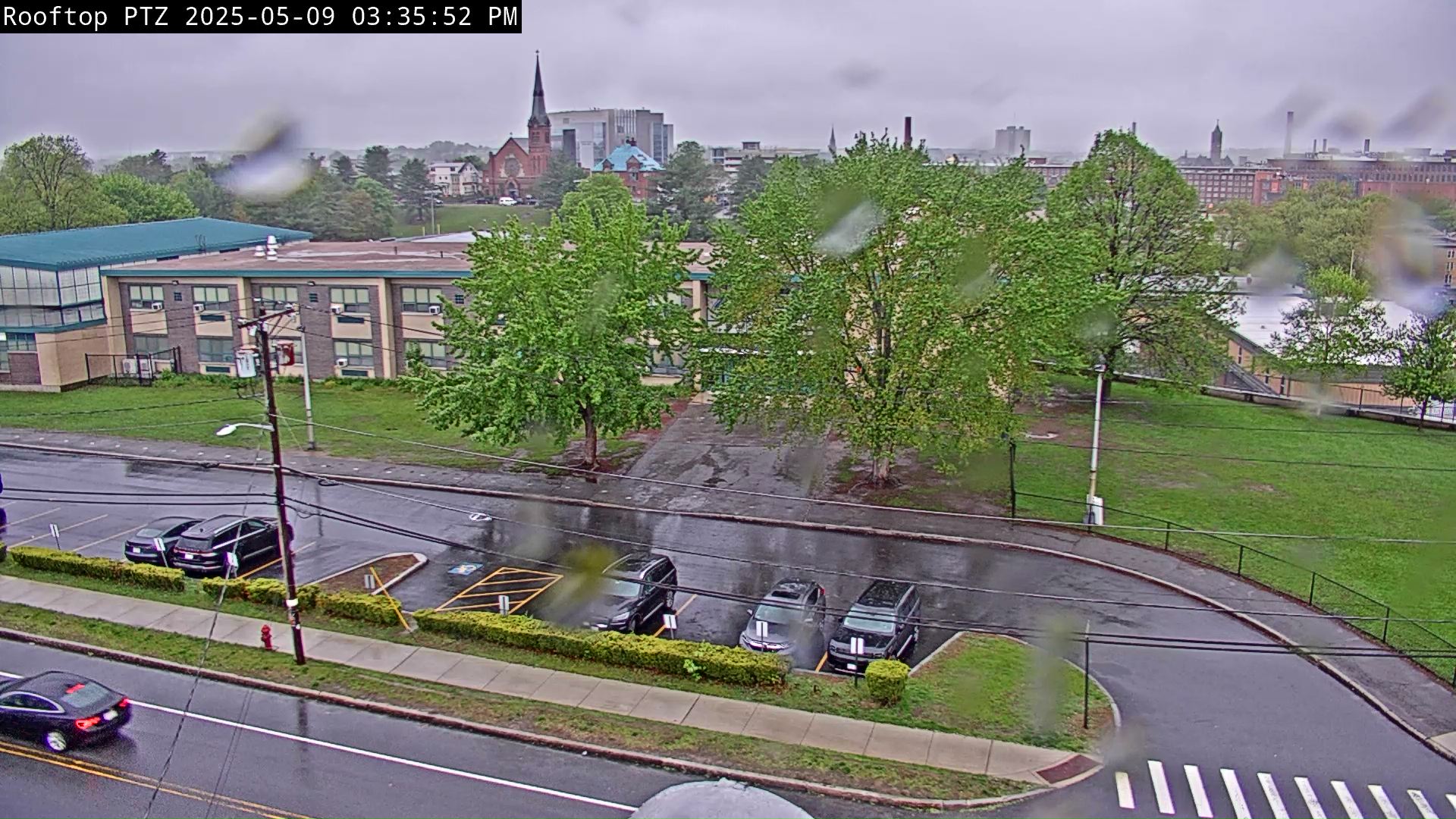 Roof top cam 14 Highland Street Lowell, MA 01852 USA
Click here for: Lowell's best weather site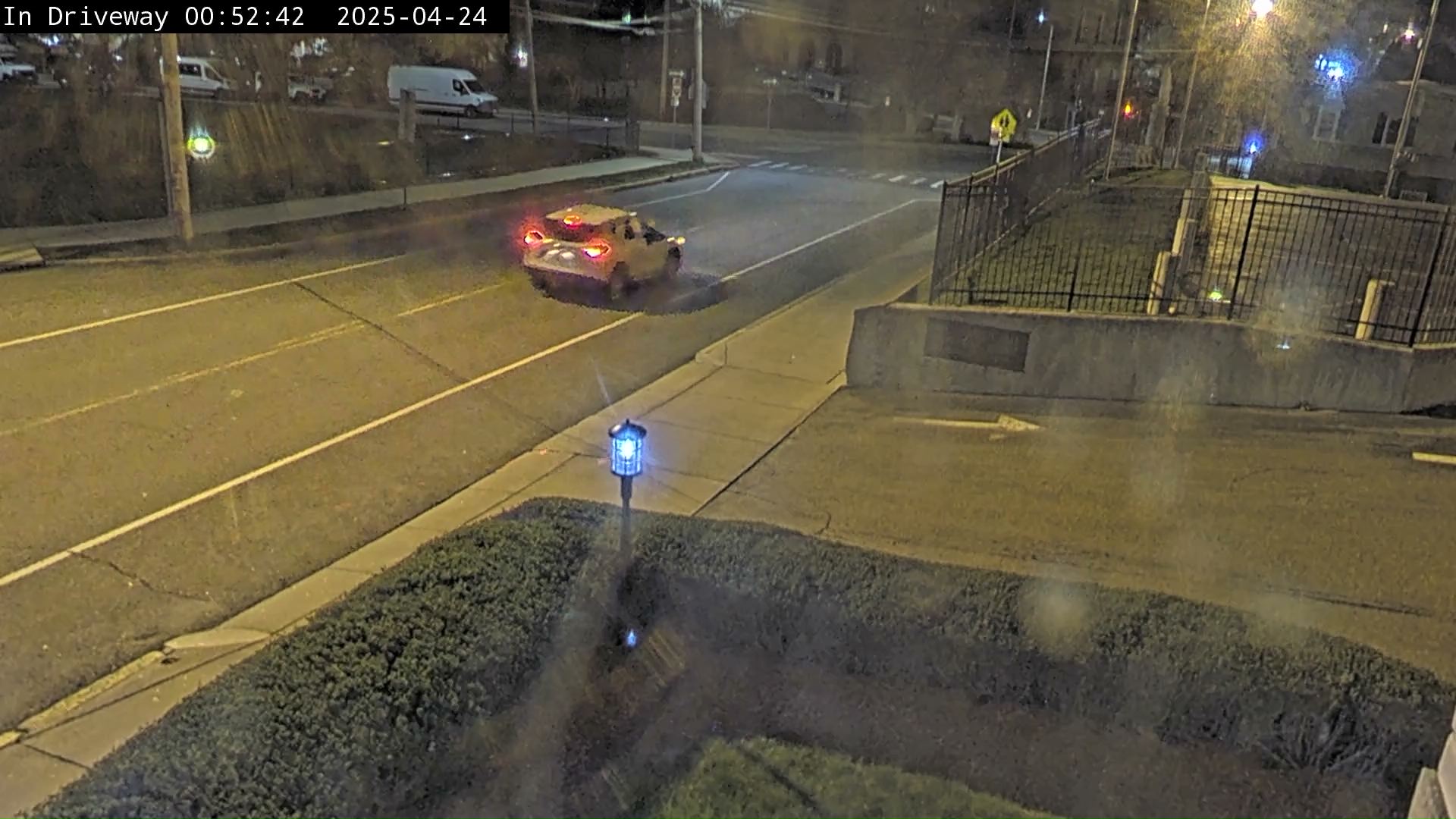 The above night vision camera is at street level sometimes looking up Highland St. towards Thorndike St.
other times looking down Highland St. toward Gorham St. in Lovely, Lowell, MA 01852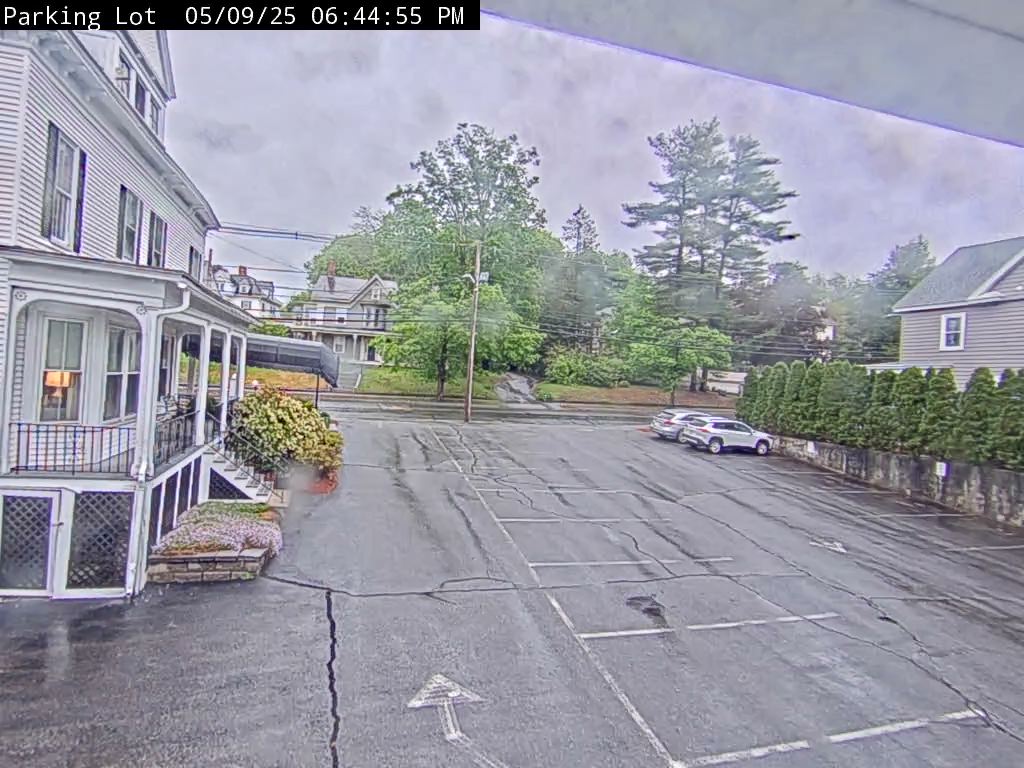 A View of the parking lot looking towards Nesmith Street, from the Mahoney Funeral Home .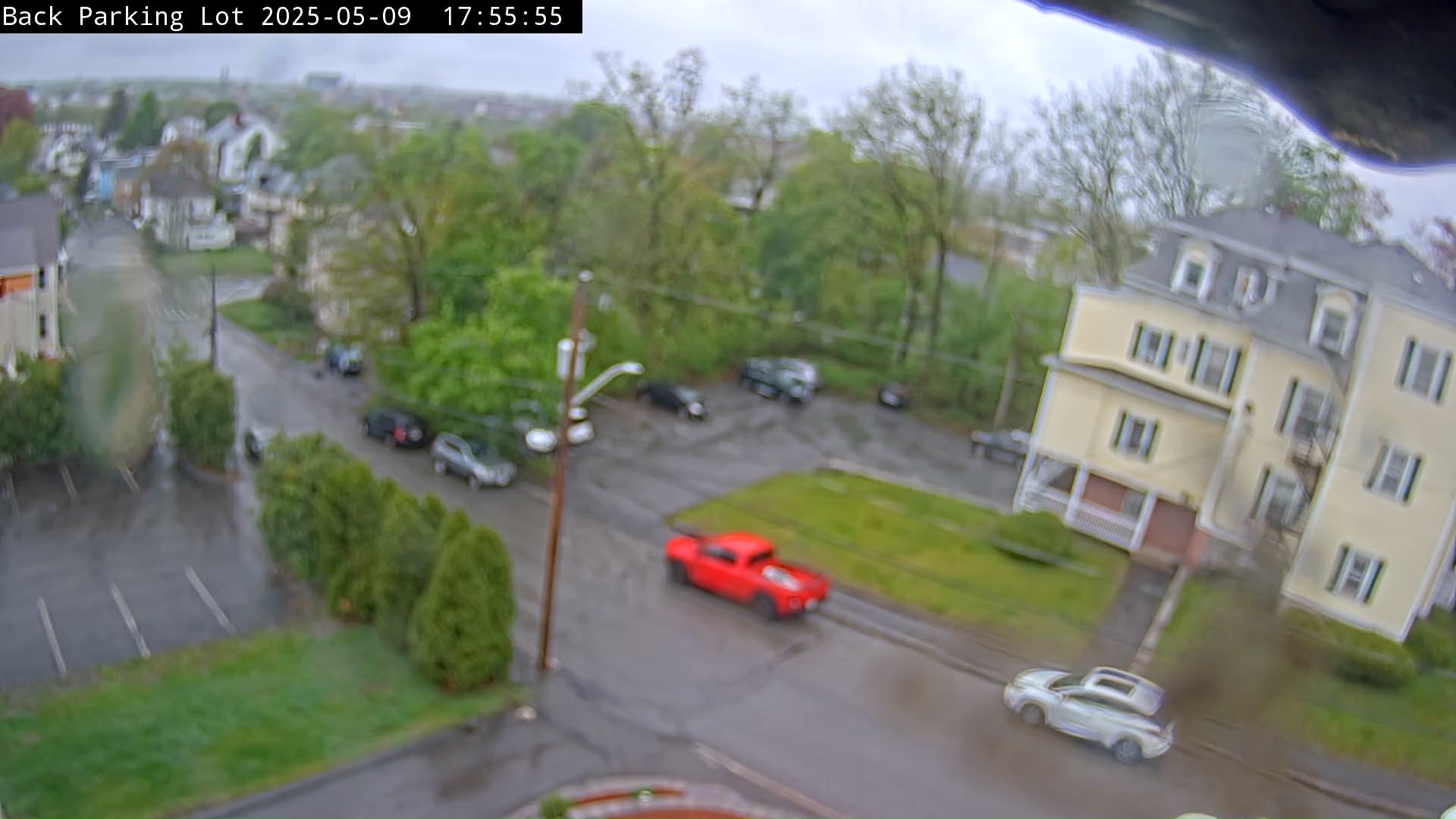 From the roof of the Mahoney Funeral Home, looking towards downtown
Please E-mail us your comments to: McDonoughFuneralHome@gmail.com
---
Your comments about this webcam site...
Hi, I live a mile or so from you and I love to look at your webcam to see what kind of day I'm going to have before I get out of bed. I ride my bike to work so it is helpful. Also, when I'm on travel it lets me see what I'm coming back to. Really appreciate the service.
best regards,
Jon
in Lowell, MA
Dear Folks,
I really enjoy checking out your live cams. I was wondering if you could tell me what the buildings are that are in view this afternoon for both cams. Your street cam seems to always show the building on the corner, and the roof cam occasionally changes. I also want to say, that I am very impressed with your funeral home, it's history, and family staff. I am not a licensed director, but have worked for numerous SCI funeral homes in Houston for the past 25 years as an assistant director. I love the business and do plan to get my license before it's my time to go.
Thanks, and best wishes,
Houston, Texas
Love your webcam, I am very greatful for your services with my mom, I felt so much like I never left Lowell nice at home feeling. Thanks again. Karen P in Hill City, South Dakota
Thank you for taking the time and effort to set up two webcams showing the weather conditions in Lowell. I have a son in school at UMASS - Lowell and I live on the Vineyard. Using your webcams I can see the conditions with which he is dealing on a daily basis (and then check the school's website to see if classes are canceled). CAK on MVY
Been watching the construction out back for a while and could not believe how quick they got this building into place. Hard part seems to be putting the cellar and foundation in place.
Norm San Antonio, Tx
Hey great web cam. I grew up in Lowell and it has changed a lot. I get back there every once in a while. I am most impressed with the way you built up the old mills and brought out the history of Lowell. Here in Montana I am at the foot of the Rockies but the White Mountains will always be the most beautiful to me.
 Jack - Helena, Montana
 
I am so glad I found this site. I live in North Carolina but I lived in Lowell for 42 yrs. I miss it there but this brings back fond memories. Thank you!        Jody
Did not seem to take long for your parking lot to get covered. Looks like the first big snow of the year. Been watching you pan, zoom and focus. Very nice camera.
Norm in San Antonio, Texas
Hi there. Thanks: your webcam enables me to get some taste of the place where my good internet friend Judy lives. Best regards, Peter in the Netherlands.
Did not seem to take long for your parking lot to get covered. Looks like the first big snow of the year. Been watching you pan, zoom and focus. Very nice camera.
Norm in San Antonio, Texas
The snow is especially beautiful looking at it from Florida!
Sam in Key West, Florida
Foliage is beautiful thanks for all the spactacular colors
Cecile, Cocoa Beach, FL
From distant California, I'm enjoying the 'ever changing' views from the new cameras. Seeing the shot of the old Keith Acadmey next to the tall smokestack with HOOD emblazoned on it brings back memories. As a child growing up in Lowell, I thought HOOD's was only a small local company. You might find it interesting to know that now, it is so large, HOOD has now bought up Crystal Creamery, formerly one of the largest providers of dairy products way out here in Sacramento, California! Cheers. FH
Thank you for posting the web cam! The City looks great! Tell John Jr. I said hi and I have a beautiful 1 year old baby boy named Kevin Anthony! Keep in touch....
Kevin Souza
Carson City, NV
OMG! Such a wonderful find, to see my home town any time that night vision is awesome! Thanks very much.
Claudia B. Indianola, Iowa
Thank you for the webcam. We can see how beautiful is Lowell on the winter. I miss my brother Carlinhos, Soraya and kids. Hope to see you guys next november/2008.
With affects,
Alex and Reevs
From Lagoa Santa,MG - BRAZIL
I am from Lowell and live in Weston now my Mother is still in Lowell and I love to see the remarkable difference in weather we have, today I called my mother and making fun of the snow she has where I have none! We have a lot of laughs, she has no idea how I know what it looks like up there.
Bill in Weston, Massachusetts
Thanks so much for your webcam. Our son and daughter in law live in Lowell, and we are currently in England. It is wonderful to be able to see what their weather is -- somehow it makes them seem a little closer!
England
Thank you for giving me a window on Lowell, I miss my home town and look forward to getting back there soon. - Carol residing in Alice Springs, Australia.
I was born and raised in Lowell. Work took my hubby and I away from Lowell many years ago. My family has passed but my friends back home are dear to me. I enjoy your webcam. It is nice to see what kind of day you are having. - God Bless Thanks so much Janet in Virginia.
Thanks so much for maintaining the web cam. I am a transplant in North Carolina but still like to see how things are in Lowell. - anonymous
How absolutely cool! I stumbled on your web cam when looking for a picture of St. Peter's Church. My grandparents were married there in 1888 and I was hoping to see it. Sadly, as I read the comments posted, I learned it is no longer standing. Any ideas where I could find a picture of it?
SORRY, None on the web that we know of, next time you are in Lowell please stop by as we have some photos and memorabilia on display. - McDonough Funeral Home
To Roseville California: Thanks Frank for your level ideas to make our cameras more appealing. - McDonough Funeral Home
There is no place like home, Lowell will always be home for me, thank you for my window back home. - Bucuresti, Romania
Very nice to meet you folks, America is a beautiful country and the people are so very friendly, I look in on you from Koln, Germany and remember a pleasant time at my Aunt's home, I shall visit again and enjoy your lovely music at the Boarding House Park. - Koln, Germany
Hi... I live in New-Brunswick Canada. I recently discovered your Webcam. My wife and I, and sometimes our daughters visit Lowell.My godmother lives there. She is 89 years old, and we have to run after her whenever we go to Home Depot. Nice to be able to see the city! - New-Brunswick Canada
I am originally from Lowell but now live in Perth Australia, it's nice to be able to check in and see how things are looking in Lowell, Thanks. - Perth Australia
Very clever! looking in on America from Germany, my best aunt lives in Lowell, excellent to see the weather conditions there, I will come in August 2006. - Germany
I retired from LHS last January. We had sold Lowell house, moved to our summer home in Falmouth for the nice weather, and built in Florida for the even better weather. We're enjoying our first winter here, we frequently check your webcam from our home on Marco Island. When we see all the snow, it convinces us we did the right thing in building here last year. - Marco Island, Florida
Nice to have a look at home from Iraq, my sister Carol went down there and waved at us, seems silly but I saved the frame. - Iraq
I can recognize the Superior Court House, St Peters Rectory, St. John's Church, St. Peters School and Bishop Markam Village, very nice site, thank you. - anonymous
Although I've lived in Northern California for forty years, I grew up in Lowell. My late parents were married in the rectory of St. Peter's Church back in 1937. Although the church itself has been torn down, the rectory remains. It's nice to see it still standing there in the distance on your webcam. - Northern California
Hello Its great to be able to keep in touch with Lowell from so far away. The resolution is really good and watching the snow pile up on the road brings back a lot of memories of my time there. - Cochin, India
By the way, I like the webcam. That is soooooo neat. - Billerica
Looks great! - Eureka, California
Thank you, it is nice to look at good old Lowell! We live in the US Virgin Islands and we very much enjoyed watching your recent snow storm. Ha Ha! Thanks again. - US Virgin Islands
Please E-mail us your comments to: mcdonoughfuneralhome@gmail.com
Live web cam live webcam Lowell MA USA Live web cam live webcam Lowell MA USA
Live web cam live webcam Lowell MA USALive web cam live webcam Lowell MA USALive web cam live webcam Lowell MA USALive web cam live webcam Lowell MA USALive web cam live webcam Lowell MA USALive web cam live webcam Lowell MA USALive web cam live webcam Lowell MA USALive web cam live webcam Lowell MA USALive web cam live webcam Lowell MA USA
Live web cam live webcam Lowell MA USA Live web cam live webcam Lowell MA USA
Live web cam live webcam Lowell MA USALive web cam live webcam Lowell MA USALive web cam live webcam Lowell MA USALive web cam live webcam Lowell MA USALive web cam live webcam Lowell MA USALive web cam live webcam Lowell MA USALive web cam live webcam Lowell MA USALive web cam live webcam Lowell MA USALive web cam live webcam Lowell MA USA
Live web cam live webcam Lowell MA USA Live web cam live webcam Lowell MA USA
Live web cam live webcam Lowell MA USALive web cam live webcam Lowell MA USALive web cam live webcam Lowell MA USALive web cam live webcam Lowell MA USALive web cam live webcam Lowell MA USALive web cam live webcam Lowell MA USALive web cam live webcam Lowell MA USALive web cam live webcam Lowell MA USALive web cam live webcam Lowell MA USA
Live web cam live webcam Lowell MA USA Live web cam live webcam Lowell MA USA
Live web cam live webcam Lowell MA USALive web cam live webcam Lowell MA USALive web cam live webcam Lowell MA USALive web cam live webcam Lowell MA USALive web cam live webcam Lowell MA USALive web cam live webcam Lowell MA USALive web cam live webcam Lowell MA USALive web cam live webcam Lowell MA USALive web cam live webcam Lowell MA USA
WEB CAM LOWELL MA WEB CAM , WEBCAM LOWELL MA WEBCAM , WEB CAM LOWELL MASSACHUSETTS, WEB CAM, WEBCAM LOWELL MASSACHUSETTS WEBCAM, WEB CAM LOWELL MA WEB CAM, WEBCAM LOWELL MA WEBCAM , WEB CAM LOWELL MASSACHUSETTS WEB CAM , WEBCAM LOWELL MASSACHUSETTS WEBCAM, WEB CAM LOWELL MA WEB CAM, WEBCAM LOWELL MA WEBCAM , WEB CAM LOWELL MASSACHUSETTS WEB CAM