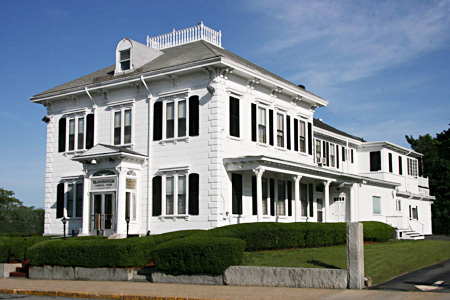 John is a Funeral Director and Owner of the McDonough Funeral Home 14 Highland Street in Lovely Lowell Massachusetts USA, Telephone 978-458-6816. His hobby is Communications, having enjoyed one on one conversations with President George W. Bush, Massachusetts Governor Deval Patrick, Former Massachusetts Governor Mitt Romney, Senator Ted Kennedy and Senator John Kerry. Many days he sits as a fill in Co-Host on Lowell's Radio Station WCAP 980AM's joins The Morning Infomation Team and Afternoon Live Programs, a member of The East End Club, The Lowell Rotary Club, The Lowell Lodge of Elks B.P.O.E 87, the Greater Lowell Chamber of Commerce, the Lowell Plan, the Downtown Lowell Business Association, the 100 Club of Massachusetts, and in 2004 became a member of HOG (Harley Owners Group).
Mr. McDonough has been featured in both Time Digital Magazine and Inc. Technology Magazine for his leadership in the funeral industry's move into the technology age with the use of computers and real time information systems, demonstrating their values as both business and communication tools.
Founder of both the Electronic Funeral Service Association and the Funeral Service Professional Association most likely the worlds largest funeral professional association, Hosting the Funeral Industry's Favorite Online Community through America Online's Keyword "Funeral Director", helping create a remarkable global communication mechanism more recently with Embalmer.com. An advocate for the Funeral Consumers, he testified at Federal Trade Commission Hearings, regarding honesty to the consumer, and is a watchdog for fair wages to funeral home employees. A resource for State Boards and Death Care Associations, Professional Magazines, Newsletters and as well as programing for Funeral related Radio and Television Broadcasts.