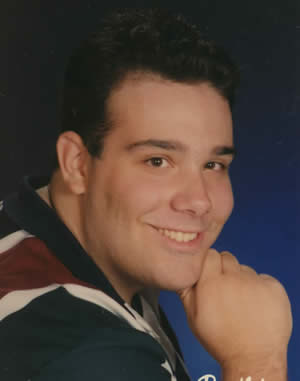 Zachary H. Hanson

KENT, WA Zachary H. Hanson, 35, of Kent, Washington, formerly of Lowell, died unexpectedly, Monday, March 11, 2013. He was a son of Kathleen Kim Hanson and her husband Richard Beauchesne of Lowell and the late William H. Hanson.

Born September 2, 1977, in Lowell. He was born with a condition known as Spina Bifida. With diligent perseverance from his mother and all who knew him, Zachary grew to become an inspiration to us all. He was educated in the Lowell Schools, graduating from the Greater Lowell Regional High School, Class of 1996, from the Computer Program Department. Zachary was awarded the Outstanding Youth Award from the Easter Seals. He worked at Mammouth Fire Alarms in Lowell. In 2001, he moved to Seattle working for Home Depot Headquarters until his disability forced him to retire. He was also a basketball coach and a Boy Scout Leader.

In addition to wife Heather and his daughter Laurin he is survived by his mother, Kim and her husband Richard of Lowell; his brother, Jacob W. Hanson of Lowell; his grandparents, Henry and Edith Hanson of Nashua; a sister, Micayla Hanson of Tewksbury; his maternal aunt, Audrey Hogan and her husband, Kevin, of Lowell; his maternal uncles, Mark and his wife Gail Gelarderes of Nashua, and Steve Gelarderes and his wife, Cheryl, of Middleburg, FL; his paternal uncle, Bruce Hanson of Nashua; his paternal aunts, Sandra Martin of Groton and Carol Belanger of Groveland, a dear friend Jeannine (J-9) Lozeau; and several cousins.

He was also a grandson of the late Rita F. Gelarderes and the late Nicholas Gelarderes.

YOU ARE INVITED TO HIS MEMORIAL VISITATION ON SATURDAY, MARCH 30, FROM 9 UNTIL 11:30 A.M. IN THE MCDONOUGH FUNERAL HOME, 14 HIGHLAND STREET, LOWELL 978-458-6816. FOLLOWING THE VISITATION HIS FUNERAL SERVICE WILL TAKE PLACE IN THE FUNERAL HOME AT 11:30 A.M. MEMORIALS IN HIS NAME TO EASTER SEALS, 484 MAIN ST. WORCESTER, MA 01608.