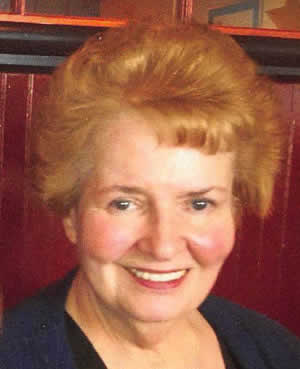 Yvonne G. Brown
"Beloved Mother, Grandmother and Great Grandmother"

CHELMSFORD        Yvonne G. (Thibeau) Brown, 78, of Chelmsford, formerly of Lowell, passed away Wednesday, April 3, 2019 at The Palm Center in Chelmsford after a lengthy illness with her beloved family all around her. She was the widow of the late Harry S. "Buddy" Brown who passed away in 2005.

    A daughter of the late Frederick Thibeau and the late Gertrude (Mitchell) Thibeau, Yvonne was born on May 29, 1940 in Boston. As a child, she traveled all around the country before settling in Tewksbury. She was raised and educated in the Tewksbury area.

    She worked as a waitress at The Manning Manse in her younger days for many years and later worked as a caregiver for several years as well. Most recently, she will be remembered as the happy lady on the other end of the telephone anytime you would call Brickhouse Pizza.

    Mrs. Brown enjoyed traveling and camping, especially with her husband, "Buddy". She also enjoyed country and western music and she loved animals. Her 2 beloved dogs, the late "Chester" and the late "Smokey" meant the world to her.

    She is survived by 2 sons and 2 daughters; Bruce F. Cipriano and his wife, Bobette, of San Luis Obispo, CA, Barbara J. Sheehan and her husband, Richard, of Lowell, Bonnie Cipriano and Michael Guillemette of Lowell and Michael R. Brown and his wife, Laurie, of Pelham, a step daughter, Cynthia L. LaClair and her husband, Ernie, of Hudson, NH, her grandchildren; Autumn and David Cipriano of San Francisco, CA, Casey and Jessie Cipriano of Dracut, Kristine Kiernan and her husband, Jimmy, of Lowell, Kimberly Sheehan of Dracut, Ricky Sheehan of Boston, Melissa, Mikey, Matthew and Mason Guillemette of Lowell, Bryce, Jacob, and Lauren Brown of Pelham, her great grandchildren; Hayden, Tyler, Garrett ,Avery and Liam. She is also survived by her close friends, Yvonne Mason and Karen Hayes, as well as her brothers, sisters in law, nieces and nephews.

    She was also the mother of the late Brian Cipriano, and step mother of the late Sharon Pearson.

    The Brown family would also like to thank the staff at The Palm Center for their care and compassion during Yvonne's residence, especially during her final days.

    YOU ARE INVITED TO HER CALLING HOURS ON SUNDAY APRIL 7, 2019, FROM 2 UNTIL 6 P.M. AT THE MCDONOUGH FUNERAL HOME, 14 HIGHLAND STREET, LOWELL, MA 978-458-6816.
HER FUNERAL SERVICE WILL BE HELD ON MONDAY, APRIL 8 AT 12 P.M. IN THE FUNERAL HOME. BURIAL TO FOLLOW IN WESTLAWN CEMETERY.
IN LIEU OF FLOWERS, PLEASE SEND MEMORIAL DONATIONS IN HER NAME TO THE LOWELL HUMANE SOCIETY, 951 BROADWAY STREET, LOWELL, MA 01854 OR TO THE MSPCA, 400 BROADWAY, METHUEN, MA 01844.