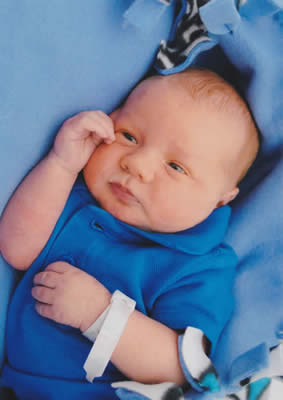 Xzavier F. Burdick

The family and friends of Mary E. Curtis and Travis A. Burdick will be saddened at the death of their precious infant son, Xzavier F. Burdick on June 30, 2015.

He was born on May 1, 2015 and resided in Lowell. Those who knew him will remember him as smart and perfect. In addition to his mother, Mary E. Curtis and his stepfather, Anthony Phillips, he is survived by his brother, Travis Arthur Burdick, Jr.; and his godmother, Karilynn Gardner. Xzavier is also survived by his father, Travis A. Burdick; his grandmothers, Janis Phillips, Stacy Phillips, and Kristina Boisvert and her husband Frank; his grandfather, Robert Pratt Sr.; and many aunts, uncles, and cousins.

He was also the grandson of the late David Curtis and the late Patricia St. Hilaire.
You are welcome to attend his visitation from 12 noon until 1 p.m. on Wednesday, July 15, 2015. His Funeral Service will take place in the Funeral Home at 1 p.m. following the visitation. Arrangements by the McDonough Funeral Home, 14 Highland Street, Lowell, MA 01852 - 978-458-6816.