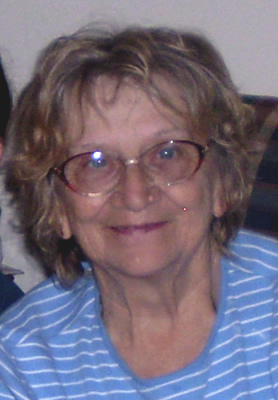 Virginia S. (Dussault) Euler

LOWELL Virginia S. (Dussault) Euler, 84, of Lowell, passed away unexpectedly Sunday, September 4, 2016 at Lowell General Hospital-Saints Campus. She was the beloved wife of Lee E. Euler with whom she shared the last 55 years.

She was born in Lowell on November 27, 1931 and was a daughter of the late Barnaby Dussault and the late Elizabeth (Weinand) Dussault. She was raised in Lowell where she attended St. Joseph's School.

She was employed at Barcy Shoe and at Wang Labs for many years before her retirement in 1986. Virginia was an avid Bingo player and enjoyed playing at the Lowell Lodge of Elks and also at St. John the Evangelist Church. She also enjoyed playing the daily numbers and going to the flea market with her son, Michael.

In addition to her husband, Lee, she is survived by her five children, David Monahan of Niagara Falls, NY, Deborah Lewis of Milford, NH, Michael Euler of Lowell, Bryant Euler and his wife, Britt of Lowell, and Kevin Euler and his wife, Vickey of Walnut Cove, NC. She is also survived by her siblings, Louise Morin of Chelmsford, Gertrude Jardine of Lowell, Pat Christopher Dussault and his wife, Edie of Dracut, Joe Dussault and his wife, Connie of Dracut, and Paul Dussault and his wife, Donna of Lowell; her eleven grandchildren, Rebecca Turmel, David Monahan, Danny Monahan, Ashley Timm, Bryant Euler Jr. and his fiancé, Lucia Ferraro, David Euler and his fiancé, Kirsten Pudsey, Stephanie Euler, Pamela Euler, Sydney Euler, Lyllian Euler; her goddaughter, Marianne Stykowski-Piper; and many great grandchildren, nieces, and nephews.

She was predeceased by her siblings, Elizabeth Danas, Rose Thompson, Theresa Strykowski, Dorothy Cameron, Barney Dussault, George Dussault, Emile Dussault, and Robert Dussault. She was also the grandmother of the late Donald "Buddy" Lewis; and godmother of the late Robert Gauthier
ON MONDAY, SEPTEMBER 12, YOU ARE INVITED TO HER CALLING HOURS FROM 10 A.M. UNTIL 12 NOON AT THE MCDONOUGH FUNERAL HOME, 14 HIGHLAND STREET, LOWELL 978-458-6816.
HER FUNERAL SERVICE WILL BE HELD IN THE FUNERAL HOME AT 12 NOON. IN LIEU OF FLOWERS, DONATIONS APPRECIATED.