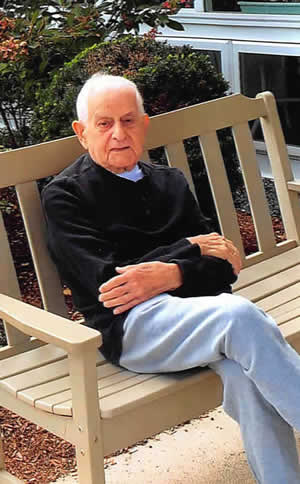 Victor James Sousa

"Beloved Father & Grandfather"

LOWELL Victor James Sousa, 90 of Lowell, passed way peacefully, on Wednesday, April 15, 2020 at Northwood Nursing Home. He was the widower of the late Mary L. (Machado) Sousa, who passed away in 2007 after 52 years of marriage.
Victor was born on October, 28, 1929 in Lowell and was a son of the late Victor M. and the late Mary (Lobao) Sousa. He was raised in Lowell, where he attended the area schools. In 1951, Mr. Sousa enlisted with the United States Air Force, serving during the Korean Conflict until his honorable discharge in 1955.

He was the owner of Quality Cleaners on Textile Ave. in Lowell. He also painted and took care of maintenance at Tewksbury State Hospital.

He loved living in the City of Lowell, where he was a communicant of St. Anthony Church. As he got older he loved going to the Lowell Senior Center and taking walks by the Merrimack River. He also loved animals, especially dogs. A walk with a dog beside him was always his favorite walk. Victor enjoyed spending time at his cottage in New Hampton, NH. Above all else, he loved spending time with his family.
Surviving Victor are his children, Maryann Maloy and her husband, Thomas of Durham, North Carolina, Stephen Sousa and his wife, Karen of Boxborough, and Roselyn Burgess and her husband, Michael of Dracut; his beloved grandchildren, Shannon and Alison Maloy and Brenna Stevenson, Stephen and David Sousa, Maribeth and Katherine Burgess, and Raymond and Daniel Brousseau. He is also survived by his son in law, Raymond Brousseau of Nashua; his brothers and sisters in law, Virginia and Tony Coviello, Roselyn Machado, Frank Lorenzo, Dorothy and Herb Brown, and Delores Machado; and many nieces and nephews.

He was welcomed into heaven by his wife, his  parents, his daughter, the late Ellen Brousseau, who passed away in January 2016; and his brothers and their wives, the late Alfred and Marion Sousa, the late Francis and Mal Sousa, and the late James and Theresa Sousa. He was also predeceased by his brothers and sisters in law, the late Rose Lorenzo, the late Edward Machado, the late Joseph Machado, the late John Machado, and his wife, the late Theresa Machado.

In lieu of flowers, please make donations in his name to the: Lowell Humane Society, 951 Broadway Street, Lowell, MA 01854 or to: The Salvation Army, 150 Appleton Street #2507, Lowell, MA  01852.

DUE TO MA STATE REGULATIONS DURING THE COVID-19 PANDEMIC HIS FUNERAL WAS HELD PRIVATELY. BURIAL TOOK PLACE AT ST. MARY CEMETERY IN TEWKSBURY. ARRANGEMENTS BY THE MCDONOUGH FUNERAL HOME, 14 HIGHLAND STREET, LOWELL, MA 978-458-6816.