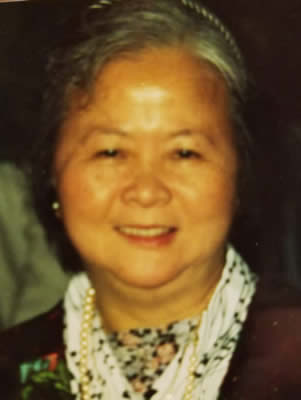 TRUC THI NGUYEN
(Nguyễn Thị Trực)
Mrs. Nguyễn Thị Trực, 88 years-old, a resident of Methuen City, Massachusetts (1980-1988), passed away on April 18, 2018 at Mass General Hospital in Boston after a long illness.
Born 1930 in Ben Tranh district, My Tho city, Vietnam, the eldest daughter to Mr. & Mrs. Hong Kim Chiêm and Nguyen thị Ty. She was known as "Ms. Hai Trực" or "Ms. Golden Teeth" at her fabric store in Mỹ Tho market before 1975.  
In 1979, she escaped by boat as a refugee with her only beloved son; Nguyễn Kim Hoàng and his family, eventually settling in Lowell, Massachusetts.  
She worked for WANG electronic company in Lowell from 1982-1988.
As a widow, facing numeric hardships in a new land, she sacrificed for many years to help her son, her brother's family and her grandchildren to overcome the difficult circumstances. This resulted in their many achievements today.
Survivors include her sister-in-law, Mrs. Lê Thị Chín and family in Fitchburg. Her step brother, Mr. Lữ Quang  and his wife Phuong Tran with their two children: Tina and Jasmine Lu in Methuen. Her only brother, Mr. Hồng Thiên Lực was preceded her in death.
Her only beloved son Nguyen, Kim Hoàng & daughter in law Nguyen, Julie Huong.  With her three grandchildren's families: Can & Thuy Nguyen and their three children: Ken, Alex and Cody Nguyen(Andover);  David & Yvonne Nguyen and their two children: Meelo and Yuma Nguyen (Winchester); Anh & Yuri Brightly and their two children Bruce & Magnolia Brightly.
Also her nieces and nephews families: her niece Tuyet & Tang Li and their son Anthony Li of Hingham. Mai Hong & Thien Doan with their two children Vi & Vinh Doan of Leominster. Nephew Trung & Debbie Hong with their three children: Carl Proulx, Mark Luke, Mathew Hong and grandchild Rory Proulx of Lowell. Nephew Hieu Hong & his former wife Thuy Tran with their two children: Kyle & Tyler Hong in Methuen. Nephew Nhan Hong and his wife Diem Nguyen and their children: Trung, Thanh, Phi, Huy Hong and his wife Carrie Ladd of Tilton, NH with their two children Jaiden & Nevaeh Hong. Nephew Tin Hong & friend Michael Goldrosen from Jamaica Plain. Nephew Chuong Hong and his wife Kim of Mathews, NC. with their two children Kaylee & Mason. Her youngest niece Linh Hong & friend Elise Noordam with their son Nathan Hong in Leominster. Her loving nephew Phuc Hong of Fitchburg; and youngest nephew Long Hong of Pepperell.
Services will be held at McDonough Funeral Home on Friday April 20, 2018 from 4 PM to 9 PM, at 14 Highland St, Lowell, MA 01852. Tel 978-458-6816.  
On Saturday morning her funeral will begin at the funeral home at 9AM to 10:30AM followed by the procession to the Lowell Cemetery, 77 Knapp Ave, Lowell, MA 01852. Tel 978-454-5191.
Relatives and friends respectfully invited at the services.