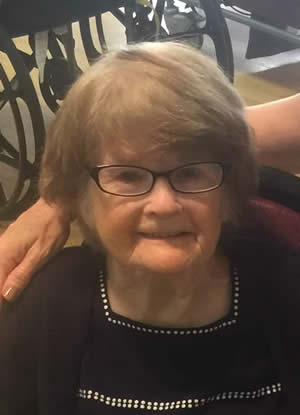 Theresa M. Ralls
LOWELL       Theresa M. Ralls, 81, of Lowell, passed away Friday, December 8, 2017. She was born on August 4, 1936 in Lowell and was a daughter of the late Myles Francis Ralls and the late Helen (Riley) Ralls. She was the beloved sister of Marguerite Dziczek, Helen Gregoire, Raymond Ralls, Francis Ralls, and Myles Ralls. 
Theresa was raised in Lowell, where she attended the area schools. She worked locally and retired from St. John's Hospital Linen Service in 2002. She enjoyed attending Holy Trinity Parish Bingo every Saturday with her sister Marguerite, friend Joe Amaral & other family members.
Thanks to her best friend, Jeanne, who passed away many years ago, she was able to travel to Florida, New York, Las Vegas, and other local places. She also enjoyed playing the horses at the former Rockingham Racetrack. Though never married, Theresa thoroughly enjoyed life and her family and friends. In her later years, she was less active but was often seen walking in Downtown Lowell to Dunkin Donuts for a lovely treat. She attended Mass at St. Joseph the Worker Shrine and was often seen sitting in quiet reflection before the Blessed Sacrament.
She is survived by one sister in law, Dorothy Ralls of Lowell; her nieces, Ann Marie Tsitspias of Lowell, Maureen Poitras of Lowell, Lorraine Elston of Tyngsboro, and Rosemarie Hafner of Clinton; and her nephew, Ronald Ralls of Dracut. She is also survived by several great nieces and nephews. She will be especially missed by her niece, Gail (Dziczek) Medina of Lowell.
           AT HER REQUEST, CALLING HOURS HAVE BEEN OMITTED. ARRANGEMENTS BY THE MCDONOUGH FUNERAL HOME, 14 HIGHLAND STREET, LOWELL 978-458-6816.