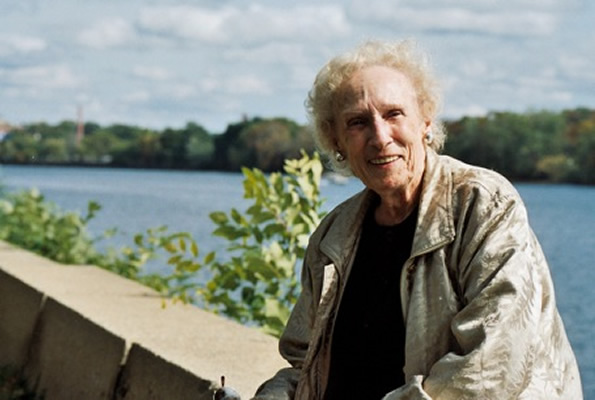 Teresa Mary DeLuca

DRACUT On August 25 at 9 p.m., Teresa Mary DeLuca passed away peacefully at her residence in Dracut with her family around her. Born October 16, 1929 and raised in the Back Central neighborhood by her beloved parents Martin Veiga and Eunice Guilmette of Lowell, she was the widow of George L. DeLuca Sr. of Lowell who died in Feb. 1995. Together they formed the "honey pot".

She was educated at St. Peters Elementary School and Lowell High School before working at the Abbot Worsted Co. in downtown Lowell as a doffer. Teresa later worked as a cosmetician at Pollards on Merrimack St., Page's Drug Store in Cupples Square and Sears on Plain St. She raised a family with her husband in the Lower Highlands at 103 Powell Street and was a devoted wife, mother and friend.

Teresa had a great sense of humor and loved talking with family and friends over a cup of coffee at the kitchen table. She loved being outside, working in her yard and taking day trips. The photograph with this obituary was taken by her son, George, on her 80th Birthday, last October on the Merrimack Riverwalk in Lowell, a true attest of her love of the outdoors.

Teresa leaves her four children whom she loved deeply: George DeLuca Jr. of Lowell, her caregiver and close friend during her final years, Stephen Michael DeLuca of Hudson, NH, Kathleen Ann DeLuca of Salisbury, and Susan Mary Campbell and her husband Dage of Lowell. She is also survived by 5 grandsons and 4 great grandchildren. She was predeceased by her aunt Mary Dudley of Lowell, Olive and Tony Veiga of Chelmsford, grandson Justin Campbell of Lowell, Vura and Walter Kopycinsky of Dracut, and many other close relatives and friends. Teresa also leaves; Raymond, Paul, Gerald and Dennis DeLuca; her dearest friends the O'Keefe and Noel Families of Lowell and her puppy, Sadie.

YOU ARE INVITED TO HER FUNERAL SERVICE AT 9 A.M. ON SATURDAY, AUG. 28, IN ST. PATRICK CEMETERY CHAPEL, 1251 GORHAM ST., LOWELL MA. ARRANGEMENTS BY THE MCDONOUGH FUNERAL HOME, 14 HIGHLAND STREET, LOWELL 978-458-6816. IN LIEU OF FLOWERS, PLEASE SEND A DONATION IN TERESA'S NAME TO THE ALZHEIMER'S ASSOC. OF MASS., 311 ARSENAL ST., WATERTOWN, MA 02472. E-CONDOLENCE - MCDONOUGHFUNERALHOME.COM