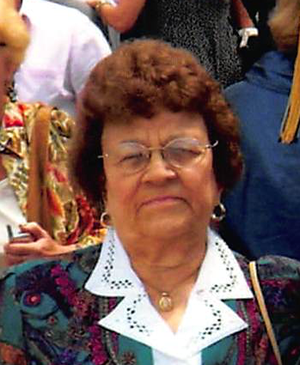 Teresa B. DaSilva

LOWELL       Teresa B. (Bettencourt) DaSilva, 89, of Lowell, passed away Tuesday,  September 10, 2019, at Tufts Medical Center in Boston after a brief illness.   She was the widow of the late Jose De Carmo Dasilva who died August 10, 1995 while vacationing in Graciosa, Azores.  They had celebrated their Forty Fourth Wedding Anniversary prior to his passing.  

     A daughter of the late Jose B. Lobao and the late Luisa L. (DaSilva) Bettencourt, she was born December 28, 1929, in Graciosa, Azores, Portugal where she was raised and educated. In 1966 she and her family relocated to the United States.

       She made her home on Chapel Street since 1966, and was a devoted member of St. Anthony's Church, was active in many ways with the Church, and walked to Church almost every day.  Teresa was a strong, independent woman and always kept busy.  She loved time  spent with her family and friends, and enjoyed sewing, crocheting, cooking, and shopping.

      A talented seamstress, she worked in many of the Textile Factories in Lowell, notably for Jay Dress for many years.

      She is survived by her son, Walter B. Silva and his wife, Maria, of Lowell; her daughter, Nisalda Nobert and her husband, James, of Hudson, NH; her grandchildren Walter DaSilva of Manchester, NH, Jerry DaSilva of Belvidere, TN, Steven Silva of Lowell, Sarah Nobert of Merrimack, NH, and Kristina Silva of Lowell; her five great grandchildren, Hailey, Taylor, Zachary, Kennadee, and Bazel; and many nieces, nephews and friends as well as her extended family in the Lowell Area, Graciosa, and Canada.

      She was also a sister of the late Cecilia Silva, the late Joao Bettencourt, and the late Frank Lobao.

       ON SATURDAY MORNING, YOU ARE INVITED TO HER CALLING HOURS 9 UNTIL 11 A.M. AT THE MCDONOUGH FUNERAL HOME, 14 HIGHLAND STREET, LOWELL 978-458-6816. 
HER FUNERAL MASS WILL BE OFFERED SATURDAY AT ST. ANTHONY'S CHURCH, 893 CENTRAL ST., LOWELL  AT 12 NOON.  FOLLOWED BY BURIAL.