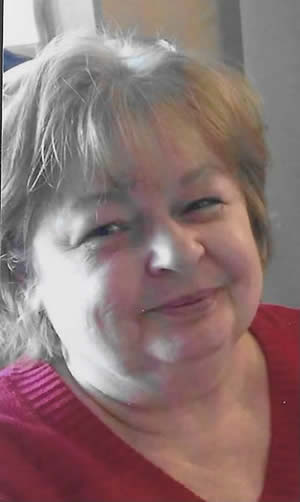 Susan M. 'Grammie SueSue' Michalczyk
LOWELL Susan M. 'Grammie SueSue' (Hebert) Michalczyk, 62, of Lowell, passed away Saturday, May 21, 2016 at her home, surrounded by her family and her faithful dog, Lucy, who never left her side. She was the wife of Guy Michalczyk with whom she shared 42 years of marriage.
Susan was born in Lowell on April 27, 1954 and was a daughter of the late Albert and the late Rita (Tessier) Hebert. She was raised in Lowell, where she attended the area schools, graduating from Lowell High School.
She resided in the Pawtucketville section of Lowell and was a communicant of St. Rita's Church. Susan was employed as a Certified Nursing Assistant at Fairhaven Nursing Home for almost 30 years, more recently she worked with the Greater Lowell Visiting Nurse Association. Susan enjoyed gardening and spending time with her family, cats and dogs, but most of all, spending time with her grandchildren brought her the most joy.
In addition to her husband, Guy, she is survived by her three children, Cheryl Leclair and her husband, Rich of Lowell, Jason Michalczyk and his wife, Shannon (Riley) of Lowell, and Jessica Michalczyk and her significant other, Justin Philbrick of Fremont, NH; and her grandchildren, Pvt. Amy Michalczyk, Ian Michalczyk, Colby Nelson, Emma Nelson, Jackson Leclair, Hunter Leclair. She is also survived by her sister, Lucy Hebert of Derry, NH; her brother, Albert Hebert of Lowell; her dear friend, Susan Ouellette of Lowell; as well many many nieces and nephews.
The family would like to especially thank Circle Home Hospice for their compassionate care during this time.
ON WEDNESDAY, MAY 25, YOU ARE INVITED TO HER CALLING HOURS FROM 4 UNTIL 8 P.M. AT THE MCDONOUGH FUNERAL HOME, 14 HIGHLAND STREET, LOWELL, MA 978-458-6816.
ON THURSDAY, MAY 26, YOU ARE WELCOME TO GATHER AT THE FUNERAL HOME AT 10:30 A.M..
HER FUNERAL SERVICE WILL TAKE PLACE AT 11 A.M. IN THE FUNERAL HOME. FOLLOWED BY PROCESSION TO ST. JOSEPH CEMETERY CHAPEL IN CHELMSFORD.
MEMORIALS IN HER NAME MAY BE MADE TO THE AMERICAN CANCER SOCIETY, 30 SPEEN STREET, FRAMINGHAM, MA 01701.