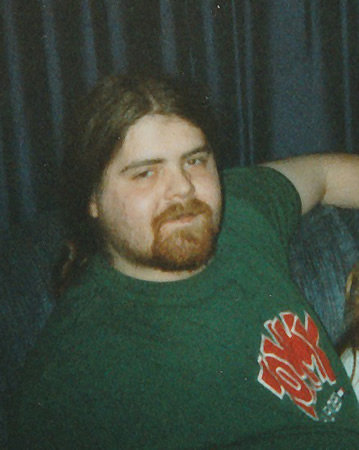 Steven L. 'Steve' Smith

LOWELL Steven L. 'Steve' Smith, 38, of Lowell, passed away unexpectedly, Thursday, June 29, 2017, at Lowell General Hospital, Saints Campus. He was a son of Daniel Smith of Lowell and the late Diane L. (Silva) Smith.

Born December 15, 1978, in Lowell, he was educated in the local schools, and graduated from Greater Lowell Technical High School.
He made his lifelong home in Lowell, and enjoyed fishing, video games, and loved his motorcycle. He especially enjoyed spending time with his nieces and nephews.

Steve worked in engine repair and was a former diesel mechanic.

In addition to his father, Daniel, he is survived by his brothers, Daniel R. Smith of Hookset, NH and Kevin D. Smith and his wife, Lisa, of Nashua; his nieces and nephews, Samantha, Arianna, Victoria, Ambur, Abigail, Daniel, and Christopher; his aunts and uncles, Doris V. Danahy of Florida, Linda and Martin Ferwerda of Rye, NH, Nancy and John Bonenfant Carlisle, MA, Cindy and Neil Kleindienst of Gloucester, MA, Joseph Jr. and Renee Silva of Florida, Teri and Roland Robitaille of Belmont, NH, Edward and Barbara Smith of Billerica, Jim and Dianne Smith of Pelham, NH, Michael J. Smith of Billerica, George A. Smith of Belmont, NH, Dennis and Patty Smith of Methuen, and Joseph A. Smith and Jeanie Teehan of Billerica. He is also survived by many cousins, and his dog Lucky.

He was the nephew of the late Karen Kirchner, and the grandson of the late John and Olive Smith, and Doris and Joseph Silva.

YOU ARE INVITED TO HIS MEMORIAL VISITATION FROM 10 UNTIL 12 NOON ON THURSDAY, JULY 6, AT THE MCDONOUGH FUNERAL HOME, 14 HIGHLAND STREET, LOWELL 978-458-6816. BURIAL WILL BE HELD PRIVATELY. MEMORIALS IN HIS NAME TO THE AMERICAN LUNG ASSOCIATION,14 Beacon Street, Suite 717 Boston, MA 10018.