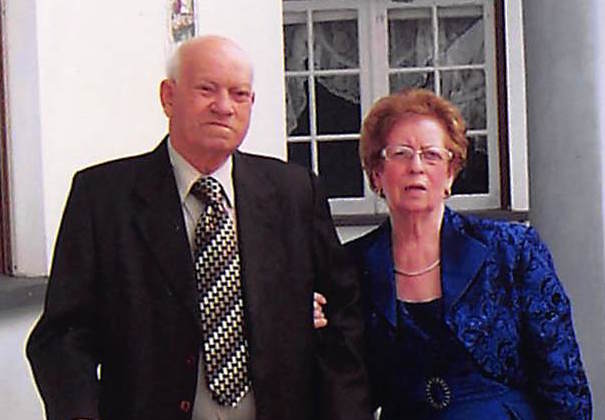 Silvino and Aldina DaSilva

LOWELL Silvino and Aldina DaSilva, of Lowell, passed away within hours of each other this week. Childhood friends, they were married in Graciosa in 1959, and were the love of each others lives, celebrating 58 years of marriage. Their passing together continues their unending love story of their devotion and dedication to each other.

Both born in Graciosa, Azores, Portugal, Silvino on February 5, 1933, a son of the late Joao DaSilva and the late Maria Laura Silva and Aldina on January 11, 1937, a daughter of the late Raimundo and Delfina DaSilva. They lived in Graciosa until 1980 when they moved their family to the United States settling in Lowell's Back Central Street Neighborhood.

They were communicants of St. Anthony Church in Lowell and enjoyed family above all else. Silvino worked for Roch Brothers as a machine operator before his retirement.

They are survived by their children, Jose Silva and his wife, Maria Fatima, of Tewksbury, Lucy Quintal and her fiancé, John Veiga, of Nashua, NH, and Duarte DaSilva and his wife, Monica, of Troy, NH; their beloved grandchildren, Sarah, Jason, Amanda, Devon, Raquel, Duarte Jr and Juliana; His sister, Maria DeLourdes and her husband, Arlindo; his sister in law, Madalena Silva; her brothers, John Silva and his wife Lucilia, Magno Silva and his wife, Nelia; her sisters, Delminda Silva, Maria Silva, Silvina Santos and her husband, Isalino, and Dolores Bettencourt and her husband, Leo; her brother in law, Manuel Melo; her sister in law, Maria DaLuz; as well as many cousins, nieces, nephews, and friends.
They are predeceased by their brothers and sisters Olivia, Manuel, Balbino, Natalino, Argentina, Alexandrina and Albino.

YOU ARE INVITED TO THEIR CALLING HOURS 4 UNTIL 8 P.M. ON SUNDAY.
ON MONDAY, THEIR FUNERAL WILL BEGIN AT 9 A.M. AT THE MCDONOUGH FUNERAL HOME, 14 HIGHLAND STREET, LOWELL 978-458-6816.
THEIR FUNERAL MASS WILL BE OFFERED AT ST. ANTHONY CHURCH, 893 CENTRAL ST, LOWELL AT 10 A.M.. BURIAL IN ST. MARY CEMETERY.