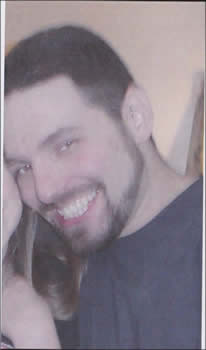 Scott D. 'Scotty' Dumas

LOWELL Scott D. 'Scotty' Dumas, 38, a lifelong Lowell resident, passed away on Monday, October 14, 2013, at Massachusetts General Hospital in Boston. He was the loving husband of Stacia L. (Wood) Dumas with whom he celebrated their Twenty First Wedding Anniversary this year.

Born August 28, 1975, in Lowell, he was a son of Debra (Dumas) Paige of Lowell, and the late Wayne Paige, and was educated in the local schools, graduating from Greater Lowell Technical High School, Class of 1993, at the top of his Class in Carpentry.
In addition to his loving wife, Stacia, he is survived by his three children, Tyler Dumas, Kayleigh Dumas, and Ayden Burns. The oldest of eight children, he is survived by his brothers and sisters, Jennifer Bickford of Nashua, Nicholas Bickford, Edward Bickford, Steven Bickford, and Nathan Bickford all of Lowell, and Felicia Dumas and Wayne Paige, Jr.; his step sisters, Tracy Paige Theodos and Christine (Paige) Sawyer, and his half sister, Joyce (Therrien) Noel.

PRIVATE VISITATION AND SERVICES WILL BE HELD AT THE MCDONOUGH FUNERAL HOME, 14 HIGHLAND STREET, LOWELL 978-458-6816. IN LIEU OF FLOWERS, DONATIONS MAY BE MADE TO ST. VINCENT DE PAUL SOCIETY, 3 FAYETTE ST. LOWELL, MA 01852. A CELEBRATION OF SCOTTY'S LIFE WILL TAKE PLACE AT A FUTURE DATE. E-CONDOLENCE SITE WWW.MCDONOUGHFUNERALHOME.COM