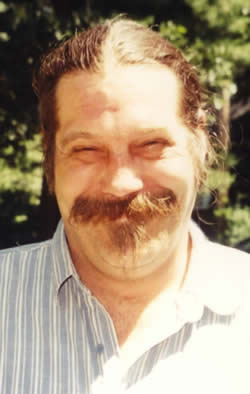 Scott J. 'Scooter' Callahan

METHUEN       Scott J. 'Scooter' Callahan, 51, of Methuen, died unexpectedly, Friday, December 25, 2009, at Holy Family Hospital in Methuen as a result of a hit and run accident.   

     Born March 13, 1958, in Malden, he was a son of Beatrice (Chetwynd) Callahan of Lowell and the late Donald P. Redpath, and stepson of the late John R. Callahan Sr., retired Lowell Police Sergeant. He was raised in the Belvidere Section of the City.  He was educated in the local schools, attending Immaculate Conception Grammar School and graduating from Lowell High School, Class of 1976. 

     Formerly of Lawrence, he made his home in Methuen. He was an associate member of V.F.W. Post 8349, Methuen, where he was a part of the Dart Team. In the early 1980's, he worked for Wang Laboratories in Lowell. He was employed by Shaws Distribution Center in Methuen for the past twenty years.

     Scott enjoyed ice hockey as a player and as a fan, and especially enjoyed the Boston Bruins.  He was also an avid fan of all the Boston Teams including the Red Sox, the Patriots, and the Celtics.  When he wasn't involved with sports, he enjoyed spending time with his family and friends.     

       Besides his mother, Beatrice, he is survived by his daughters and granddaughters, Leah Callahan and her daughter, Aerial Torrens, both of of Tampa Bay, Florida and Shannon Callahan and her daughter, Chloe Callahan both of New Bedford; Leah and Shannon's Mother and his close friend, Rebekah J. Callahan of Tampa Bay, Florida; his girlfriend, Jacqueline L. Gannon of Methuen; her children, Charles W. Gannon of Londonderry, NH, Shane T. Gannon and his wife, Meghan, of Derry, NH, Kelly L. Gannon of Methuen, and Jeremiah R. Gannon of Westford; her eleven grandchildren; his brothers, James Callahan and his wife, Marcia (Early), of Lowell, Retired Lowell Police Officer, John Callahan, Jr., and his wife, Pamela (O'Rourke), of Port Charlotte, FL, Michael Callahan and his wife, Dianne (Perron), of FL, Retired Lowell Police Sergeant, Richard Callahan and his wife, Kathleen (Tansey), of Lowell, Kerry Callahan, of FL, Patrick Callahan, Sr., and his wife, Deborah, of Hampton Beach, NH, and David Callahan, Sr. and his wife, Patricia (Chartier), of Dunstable; his sisters, Rayma Cunha of Brandon, FL, Candice Connor and her husband, William, of Chelmsford, Donna Tourville of Tyngsborough, Diana Coates and her husband, Gregory "Al", of Dracut, and Linda Regan and her husband, Rodney, of Pelham, NH; an aunt, Norma White of St. Petersburg, FL; and many nieces, nephews, cousins, and friends.

      He was also a brother of the late Toni Harman.  

           YOU ARE INVITED TO HIS CALLING HOURS 2 UNTIL 7 P.M. ON WEDNESDAY, DECEMBER 30, AT THE MCDONOUGH FUNERAL HOME, 14 HIGHLAND STREET, LOWELL 978-458-6816.  HIS FUNERAL SERVICE WILL BE HELD AT 7 P.M. AT THE FUNERAL HOME.  MEMORIALS IN HIS NAME TO THE VFW POST 8349, RIVER STREET, METHUEN, MA 01844. E-CONDOLENCE SITE WWW.MCDONOUGHFUNERALHOME.COM