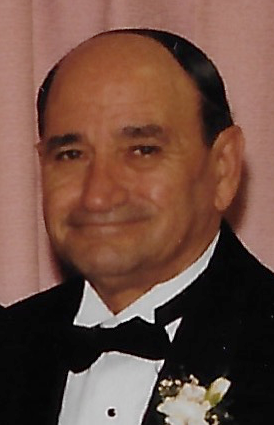 SALVATORE 'SAL' COLLURA

LOWELL Salvatore 'Sal' Collura, 86, of Lowell, passed away peacefully with his family by his side on Tuesday, January 31, 2017 at the Merrimack Valley Hospice House. He was the husband of the late Eleanor A. (Golden) Collura who passed away in 2007. He and Ellie were married for over 50 years.

Born September 25, 1930, in Aragona, Sicily, he was a son of the late Biagio, and the late Domenica (Salamone) Collura. At young age, his family relocated to Lowell, and he attended the Lowell schools.

Mr. Collura served with the United States Navy for 4 years during the Korean War. He was stationed on an icebreaker, and earned the designation "Blue Nose" for having crossed the North Pole.

Sal was a milkman with Hood for over 20 years, and he worked for Lowell General Hospital for over 20 years. He also owned and operated "Sal's Barber Shop" on Prospect Street. He enjoyed playing music, especially the guitar, and loved listening to Jazz music. Often he could be found spending time at the former Luigi's Cafe, his favorite restaurant. He loved Hampton Beach, and enjoyed traveling the country with his late wife. He had very fond memories of his two trips to his native Italy. He also enjoyed boxing, he was an avid patriots fan, and had personally met Bob Kraft at the Patriots Hall of Fame.

He is survived by his son William S. Collura and his wife Kelly of Wilmington, his daughter Donna G. Collura of Dracut and a close family friend Lisa Calcia of Dracut; his great grand daughter Alicia Lessard-Sawyer of Methuen, his two sisters, Florence Demers of Virginia, and Theresa Fuller of Salem, NH. He is also survived by his dear friends and neighbors, the Holland Family, as well as many nieces and nephews.

He was the father of the late Michael Collura, grandfather of the late Matthew Lessard, brother of the late Domenic Collura, and brother in law of the late Paul Demers, and the late Robert Fuller.

YOU ARE INVITED TO HIS CALLING HOURS 3 UNTIL 8 P.M. ON FRIDAY. ON SATURDAY, HIS FUNERAL WILL BEGIN AT 10 A.M. AT THE MCDONOUGH FUNERAL HOME, 14 HIGHLAND STREET, LOWELL 978-458-6816. HIS FUNERAL MASS WILL BE OFFERED AT THE IMMACULATE CONCEPTION CHURCH AT 11 A.M.. BURIAL IN ST. PATRICK CEMETERY. MEMORIALS IN HIS NAME TO THE HARPLEY ONCOLOGY NURSING CARE FUND, 41 MALL RD, BURLINGTON, MA 01805.
E-mail the family your condolences to:
mcdonoughfuneralhome@gmail.com