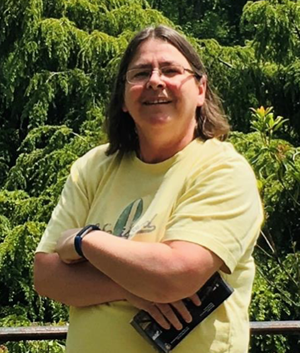 Ruthann 'Ruthie' Demers

TEWKSBURY      Ruthann 'Ruthie' Demers, 58, of Tewksbury, passed away Tuesday, July 2, 2019, at High Pointe Hospice House in Haverhill after a brief battle with breast cancer with her loving family at her side. She was the beloved wife of Fiona MacDonald whom she married December 6, 2018 after having spent sixteen wonderful years together.

      A daughter of the late Andrew and the late Virginia (Morris) Demers, she was born July 7, 1960, in Lowell. She was educated in the Lowell schools and was graduated from UMass Lowell with a Bachelor of Science.

    Ruthie loved the outdoors and was a proud supporter of the National Parks. She spent last summer volunteering at the Lowell National Historical Park. Zion National Park in Utah was one of her favorite places, and she made great memories traveling around all of the National Parks with her family.

       She worked as a Quality Assurance Engineer at Syncsort, formerly known as Trillium Software, for over 16 years. Her many work colleagues appreciated her quick grasp of issues, good sense of humor, warm heart and endless stories about growing up in the Demers family!

     Her family include her mother-in-law, Jean MacDonald of Edinburgh, Scotland; as well as her brothers and sisters, Andrew Demers and his wife, Marlene, of Holiday, FL; Andrea DeAngelis and her husband, Michael, of Lowell; the late G Phillip Demers and his wife, Jane, of Dracut; Frederick Demers and his wife, Donna, of Tyngsborough; Robert Demers and his husband, Juan Alvarez, of Tewksbury; Virginia M. Shay and her late husband Ricky, of Dracut; Maryann Doster and her husband, James, of Tyngsboro; and James Demers and his wife, Tammy, of Lowell; her uncle, James Morris of Tewksbury; her aunts Joan Bradanick and Louise Donovan both of Tewksbury; her good family friend Barbara Atencio Noel and her husband, Cary of Warwick; as well as several cousins, nieces, nephews, great nieces and nephews and many friends.

      YOU ARE INVITED TO RUTHIE'S MEMORIAL SERVICE AT 1:30 P.M. ON SATURDAY, JULY 20, 2019, AT THE CATHEDERAL OF THE PINES, 10 HALE HILL RD, RINDGE, NEW HAMPSHIRE.
Please RSVP to ruth.memorial19@gmail.com