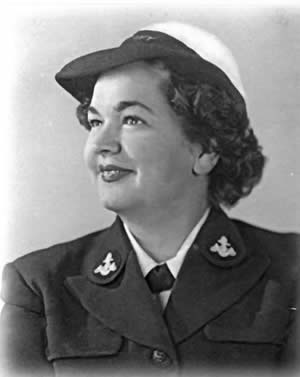 Rollande M. 'Rolly' Gill
LOWELL Rollande M. 'Rolly' (Lachance) Gill, 91, of Lowell and Florida, died after a brief illness Monday, December 8, 2008 at D'Youville Senior Health Care Center. She was the widow of the late John Reynolds and widow of the late Walter F. Gill. She is survived by her loving sister, Madeleine B. Griffin of Lowell, who cared for her for many years.
Born November 4, 1917, in Canada, she was a daughter of the late Gedeon J. and the late Blanche D. (Gonthier) Lachance, and came to the United States in the 1920's with her family. She was a graduate of Notre Dame deLourdes Grammar School and Lowell Trade School, studying Cosmetology. During World War II, Mrs. Gill served as a seaman 1st Class as a W.A.V.E. for the United States Navy for more than two years.
A former resident of Tyler Park in Lowell, Mrs. Gill made her home in Florida for many years, and more recently resided in Chelmsford. While living in Lowell she was a member of St. Margaret's Parish. She owned and operated her own beauty parlor, Rolly's Beauty Salon, and later worked for many years at the Pollard's Department Store Salon. In her spare time, she enjoyed knitting, but most of all, she loved her cats.
Besides her sister, Madeleine, she is survived by two sisters, Gabrielle R. Payette of Oldsmar, Florida and Jacqueline D. Dupont and her husband, Conrad, of Clearwater, Florida; a brother, Jean-Marc Lachance and his wife, Lillian, of Ocean Hills, California; a brother in law, Joseph A. Lemieux of Scottsdale, Arizona; a sister in law, Helen O'Hearn of Lowell, her Godchild, Margaret Sarmento; her devoted niece, Louise Griffin and several nieces and nephews.
She was sister of the late Olivette Lemieux; and sister in law of the late Leonard Payette and the late James G. Griffin.
YOU ARE INVITED TO HER FUNERAL MASS ON SATURDAY AT HOLY FAMILY PARISH AT ST. MARIES CHURCH AT 11 A.M.
address for directions to the Church 100 Grafton St Lowell MA 01852
AT HER REQUEST, HER INTERMENT WILL BE HELD PRIVATELY.
ARRANGEMENTS BY THE MCDONOUGH FUNERAL HOME, 14 HIGHLAND STREET, LOWELL (978 OR 800) 458-6816.
E-CONDOLENCE SITE info@mcdonoughfuneralhome.com