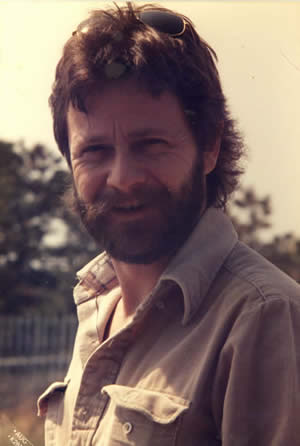 Robert E. 'Nut' Winters
TEWKSBURY Robert E. 'Nut' Winters, 55, of Tewksbury, died Wednesday, April 29, 2009, at his home after a battle with cancer. For the past thirty years, he shared his life with Patricia (DeRosa) Beaulieu, celebrating their Twenty Fifth Wedding Anniversary this year.
A son of the late William R. and the late Evelyn M. (Cassidy) Winters, he was born March 17, 1954, in Lowell, and attended St. Peter's Grammar School, graduating from Lowell High School.
He resided in Lowell before residing in Pelham, New Hampshire for seven years. More recently he made his home in Tewksbury.
Nut was blessed by being able to work as a master craftsman in the musical and guitar profession because he earned a living doing what he loved to do most. From a young age, he became involved with music and playing guitars and spent the next thirty years expressing his appreciation of the guitar and music working skillfully to craft and repair instruments. He was able to make his love of music influence all who came in touch with him.
In addition to his loving wife, Patricia, he is survived by his son, Justin M. Beaulieu and his wife, Pamela, of Wilmington; his daughter, Leigh Ann Winters and her husband, Mike Travers of Sandwich; his stepchildren, Sarah Finlayson and her husband, Steven, of Mashpee, and Jessica Davis and her husband, Chris, of Fall River; five grandchildren, Caleb White, Laila Travers, Cassie Finlayson, Sam Davis, and Hannah Davis; his sister, Brenda J. Silveira of Bradford; his brother, William R. Winters and his wife, Cheryl, of Hillsborough, NH; his mother in law, Margie DeRosa of Tewksbury; his sister in law, Susan Surette and her husband, Peter, of Pelham, NH; and many nieces and nephews.
He was also the brother of the late C. Kenneth Spinney, son in law of the late Vinnie DeRosa, and brother in law of the late David Silveria.
AT HIS REQUEST, CALLING HOURS HAVE BEEN OMITTED AND CREMATION HAS TAKEN PLACE PRIVATELY. ARRANGEMENTS BY THE MCDONOUGH FUNERAL HOME, 14 HIGHLAND ST., LOWELL MA 01852.