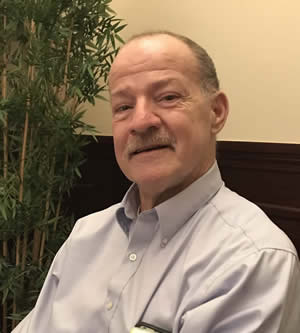 Robert J. 'Rob' Clark
NASHUA, NH        Robert J. 'Rob' Clark, 67, of Nashua, NH, passed away Monday, December 31, 2018 at his home. He was the beloved husband of Ralene L. (Belair) Clark with whom he shared the last 11 years.

    He was born in Lowell on October 26, 1951 and was a son of the late George A. Clark and the late Pauline V. (Kenney) Clark. He was raised in Lowell where he attended Sacred Heart School and graduated from Lowell High School with the Class of 1969.

    Rob worked at Compugraphic and Inforex before joining Wang in 1982, where he worked as a Repair Tech Support Engineer until retiring in 2009. For 14 years, Rob was a loyal and loved Employee/Manager at Drum Hill Liquors in Chelmsford.

    In his younger years, Rob was involved with Sacred Heart Church CYO, and coached Little League and Lowell Babe Ruth. His proudest moment in softball was playing on the same team with his two sons, Robbie and Ryan. Rob could be found playing softball with the Inforex team and numerous others in the area. He belonged to various leagues at Brunswick Lanes for many years.

    Rob enjoyed stage because 'you get to be somebody else'. He entertained the crowds with his beautiful tenor voice, for 20 years, with the SRO Players, and performed in numerous productions with The Play By Players and ACTORS Inc..

    In addition to his wife, Ralene (Belair) Clark of Nashua, NH, he is survived by his two sons, Robert J. Clark, Jr. and his wife, Tracy (Castle) of Lowell, MA, Ryan P. Clark and his wife, Ellen (Freeman) of Omaha, NE; his two step-daughters, Kimberly (Rousseau) Mailloux and her husband, Neil of Hopkinton, NH and Wendy (Rousseau) Vaupel and her husband, Neal of Goffstown, NH.

    He is also survived by his grandchildren, Courtney, Molly, Diena, Caresse, Sydney, Cierra, Isaac, Acacia, Dannielle, and Levi; his two brothers, George A. Clark, Jr., and Donald H. Clark and his wife, Doreen (Long) all of Lowell; his sister in law, Kathryn (St. Onge) Clark of  Chelmsford;  his sweet 'pooch', Kelcie, and his former wife, Judith (Collins) Minton.

    He was predeceased by his brother, Paul E. Clark.
   
           YOU ARE INVITED TO HIS CALLING HOURS FROM 2 UNTIL 8 P.M. ON SUNDAY, JANUARY 6.  
ON MONDAY, HIS FUNERAL WILL BEGIN AT 10 A.M. AT THE MCDONOUGH FUNERAL HOME, 14 HIGHLAND STREET, LOWELL 978-458-6816.
HIS FUNERAL MASS WILL BE OFFERED MONDAY AT ST. MARY CHURCH, 25 NORTH ROAD, CHELMSFORD, AT 11 A.M..  BURIAL IN LOWELL CEMETERY. 
IN LIEU OF FLOWERS, DONATIONS IN HIS NAME MAY BE MADE TO: ACTORS INC., P.O. BOX 236, DRACUT, MA 01826.