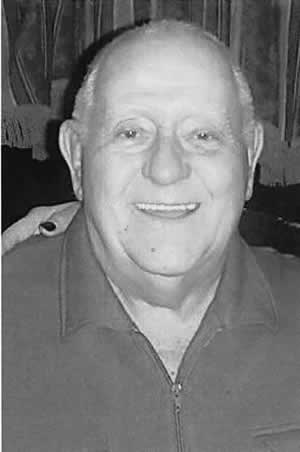 Robert H. 'Bob'  Roper

HUDSON, NH        Robert H. 'Bob' Roper, 81, beloved husband to Rita M. (Almeida) Roper, passed away Tuesday, February 6, 2018, after Sixty years of marriage.
    A son of the late Arthur W. Roper and the late Esther M. (Laird) Roper, he was born October 29, 1936, in Lowell, and attended St. Michael's Grammar School and graduated from Keith Academy. 
As a child, he was right handed until he was stricken with Polio in his right arm and had to relearn all tasks as a left handed person. He then went on to excel as a Varsity pitcher for Keith Academy.

    A lifelong member of Long Meadow Golf Club, he was an avid golfer.  He also coached youth baseball for Callery Park for over twenty years.  He retired after twenty eight years as District Sales Manager for CVS in the Boston area.

    In addition to the love of his life, his wife, Rita, he is survived by his children, Robert F. Roper of Lowell, Stephen A. Roper of Fitchburg, Michael J. Roper of Leominster, Sharon M. (Roper) Desrosiers of Hudson, NH, and Tracy A. Rousseau of Townsend; his brother William Roper and his wife Marian of North Adams; his sisters-in-law, Carol Roper of Bradenton, FL, and Florence Crowell and
brother in-law Donald Crowell of Hudson, NH; his fifteen grandchildren, Joshua Rousseau, Courtney Colcord, Lindsay Roper, Tiffanie Roper, David Desrosiers, Bryan Desrosiers, Michael Magee, Stephen Roper, Brittany Roper, Alexandra Roper, Brandon Hammond, Brianna Rousseau, Tyler Rousseau, Morgan Rousseau, and Ava Rousseau; his seven great grandchildren, Kiarha Roper, Amber Gauthier, Kaden Colcord, Aaliyah Colcord, Vienna Cotreau, Jenna Magee, and Adilynn Dodge-Rousseau; and many nieces and nephews.

    He was also the brother of the late Ronald Roper who passed away on February 10th 2018 and the brother of the late Kenneth Roper who passed away in 1985, and grandfather  of the late Jennifer Roper who passed away in 2014.

    The family would also like to thank his dialysis nurse, Elaine Cerullo, for her kindness, care, and dedication over the past three years.

    ON SATURDAY, FEBRUARY 17, YOU ARE INVITED TO HIS VISITATION 12 UNTIL 3 P.M. AT THE MCDONOUGH FUNERAL HOME, 14 HIGHLAND STREET, LOWELL 978-458-6816. 
HIS FUNERAL SERVICE WILL TAKE PLACE SATURDAY AT 3 P.M. AT THE FUNERAL HOME.  MEMORIALS IN HIS NAME TO LONGMEADOW GOLF CLUB SCHOLARSHIP FUND, 165 HAVILAH ST., LOWELL MA 01852..
E-mail the family your condolences to: