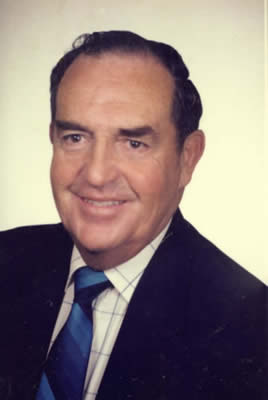 Robert F. O'Connor "Okie"

Retired Vice President of Local Bank

and Avid Tennis Player, 78

DRACUT Robert F. O'Connor "Okie", 78, retired Vice President of Shawmut National Bank, and a well known prominent local banker, died Sunday morning, August 21, in Boston. Bob was first and foremost a family man to his family and a loving grandfather. He was the husband of Pauline G. (Makarewicz) O'Connor, with whom he would have celebrated their Fifty Sixth Wedding Anniversary this coming October.

Born in Lowell on February 23, 1933, he was a son of the late Timothy and the late Mary (Silveira) O'Connor. He was the brother to the late Seaman 1st Class Daniel Joseph O'Connor, US Navy, killed in action in WWII, the late Dorothy (O'Connor) Heitzman, and the late Lillian Urban, who died in 2002.
Bob was educated in St. Peter's Parochial School and was a graduate of Lowell High School with the Class of 1951. He went on to attend Williams College where he was one of the top ten in Class for banking.

Mr. O'Connor's list of accomplishments in banking were impeccable. His Banking career has spanned over Forty years, serving first at the Union National Bank, then at the First Bank and then for the Shawmut National Bank from which he retired in October, 1992.

He served the Lowell Kiwanis Club as their Past President and received the Kiwanian of the Year Award in 1972 for his outstanding leadership. Equally, his service to the Community has involved many organizations serving on the Board of Directors of the Lowell's Boys Club, the Board of Trustees of the Greater Boston Lowell Catholic High School, and the Merrimack Valley United Way. He was also a recipient of the Lowell's Boys Club Award as an outstanding Businessman of the Greater Lowell Community.

Bob was one of five of the original incorporators, the First Treasurer, Chairman of the Finance Committee, Member of the Executive Committee, and on the Board of Directors of the Greater Lowell Drug Treatment Rehabilitation Program, Inc. D/B/A SHARE. He has served on the Salvation Army Board of Directors and was Treasurer for over thirty eight years. In 1999, he was made a Life Member of the Salvation Army. His recognition as the 1996 Others Award Recepient acknowledges his faithful service not only to the Salvation Army, but to all organizations that have benefitted from Bob's professionalism and character.

He was also on the St. Joseph's Hospital Drug Detoxification Committee, and was a member of the Holy Name Society, and was Director of St. Mary Magdalen's Church Confraternity of Christian Doctrine Program.

Bob was an avid tennis player and a past former outstanding athlete. He recreationally played baseball, softball and basketball, where he was a member of The Independent 5 and The American All Stars of Holy Trinity Church. He enjoyed being with his family and loved lying in the sun at the pool listening to a ball game. Bob had a great outlook on life and had a great sense of humor. He made his home in Tyngsboro before residing in Dracut for over twenty five years, and was a communicant of St. Francis Church.

Mr. O'Connor put into motion the refurbishing of the granite monument on Charles and Central Street honoring the Portuguese-American Veterans slain in battle during World War I, World War II and the Vietnam War one of which was his late brother Daniel Joseph O'Connor.

Besides his wife, Pauline, he is survived by two sons, Daniel J. O'Connor and his wife, Sue, of Dracut, and Robert F. O'Connor Jr. of Pelham, NH; four daughters, Christine M. O'Connor of Dracut, Maryellen Martineau and her husband, Mark, of Dracut, Francine M. Sousa and Kenneth J. Sousa, and Kelly A. Bouley and her husband, Thomas, of Lowell; his seven grandchildren, April S. Lander and her husband, Daniel, of Stoneham, Mark J. Martineau and his wife, Hillary, of Tyngsboro, Kathleen M. Sousa and Michael D. Hardy of Tyngsboro, Colleen L. O'Connor of Dracut, Kenneth F. Sousa of Tyngsboro, Jenna M. Martineau of Dracut, and Kylie A. Bouley of Lowell; his three great grandchildren, Deanne P. Sousa, Michael K. Hardy, and Hailey E. Martineau; and many nieces and nephews.
YOU ARE INVITED TO HIS CALLING HOURS FROM 4 UNTIL 8 P.M. ON WEDNESDAY, AUG. 24. ON THURSDAY, HIS FUNERAL WILL BEGIN AT 9 A.M. AT THE MCDONOUGH FUNERAL HOME, 14 HIGHLAND STREET, LOWELL 978-458-6816. HIS FUNERAL MASS WILL BE OFFERED AT ST. FRANCIS CHURCH, 115 WHEELER RD., DRACUT, AT 10 A.M.. A PROCESSION WILL FOLLOW FOR BURIAL IN ST. MARY CEMETERY. MEMORIALS IN HIS NAME TO SALVATION ARMY, 150 APPLETON ST., LOWELL MA 01852. PLEASE VISIT OUR WEBSITE WWW.MCDONOUGHFUNERALHOME.COM TO SEND THE FAMILY AN E-CONDOLENCE AT ANYTIME.