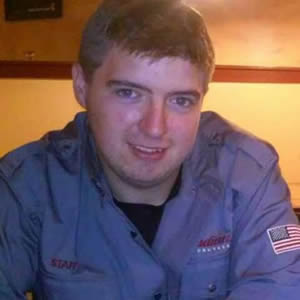 Robert M. 'Bobby' Aguiar-Doyle

LOWELL      Robert M. 'Bobby' Aguiar-Doyle, 20, of Lowell, died unexpectedly, Monday, July 13, 2015, as the result of a motorcycle accident.   He was the beloved son of Robin (Doyle) Gravlin and Douglas Gravlin.

Born August 29, 1994, he was educated in local schools, graduating from Lowell High School, class of 2013, and was looking forward to working toward a degree in business this fall.

Bobby loved hockey and was a big fan of Tuukka Rask and Ray Bourque. His dedication to hockey ranged from debating NHL statistics to playing for Dracut Dek Hockey for the last several years and helping them bring his team from last place to winning the Championship title. There wasn't anything hockey he didn't know, he debated his knowledge with the best of them and usually won.

Bobby loved to travel having most recently gone on a once in a lifetime cross country road trip with his family. He also traveled to Australia representing the United States as student ambassador for the People to People organization, that same year he was inducted into the Smithsonian Museum in Washington DC as the "Who's who of grammar schools".

He was an avid xbox video gamer, motorcycle rider, a talented guitarist, and above all, he cherished time spent with his family.

He worked for several years at Arthur's Paradise Diner, serving up his favorite breakfast, the Ham Boottmill Sandwich, prior to becoming a motorcycle detailer for Motorcycles of Manchester in Manchester, NH.

In addition to his parents, Robin and Doug, he is survived by his grandmother, Sharon Doyle (Wright) of Raymond, NH; his uncle, James Doyle Jr., his wife, Marcy and their son, Noah of Bedford, NH; his aunt, Aimee Lavoie, her husband, Stephen Lavoie and their children, Alexia Doyle and Stephen Lavoie of Raymond, NH; his biological father, Robert J. Aguiar, his significant other, Keri Radzik, their children, Corina, David, Nathan, Michael, Sylvia, Alexander, and Tyler; his uncle, Paul Aguiar; and his grandfather, Ezekiel "Zeke" Aguiar and his wife, Lorraine Aguiar all of Lowell.
He is also survived by many, many cousins, and friends including his extended family where he was raised as one of them, the Ruskeys' and the Figueiras'; and his best friends, Wesley Ruskey of Lowell and William Figueira of Ayer.

     He was also a grandson of the late James Doyle the late William Ruskey.

—TO HONOR BOBBY, ALL THAT WILL BE ATTENDING SERVICES ARE MORE THAN WELCOME TO WEAR BRUINS JERSEY/ATTIRE OR BLACK AND YELLOW—

YOU ARE INVITED TO HIS CALLING HOURS FROM 2 UNTIL 6 P.M. ON SUNDAY, JULY 19.   ON MONDAY, HIS FUNERAL WILL BEGIN AT 8:30 A.M. AT THE MCDONOUGH FUNERAL HOME, 14 HIGHLAND STREET, LOWELL 978-458-6816.  HIS FUNERAL MASS WILL BE OFFERED AT IMMACULATE CONCEPTION (LOWER) CHURCH, 144 EAST MERRIMACK ST., LOWELL AT 9:30 A.M..  BURIAL IN ST. MARY CEMETERY.  E-CONDOLENCE SITE WWW.MCDONOUGHFUNERALHOME.COM