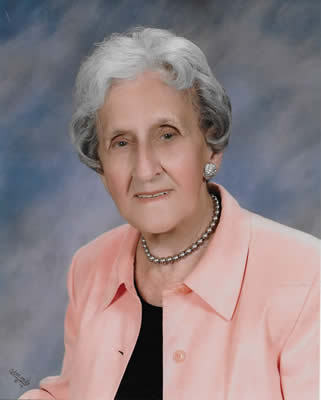 Rita Perry McQuade
Rita Perry McQuade, a life-long resident of Lowell, passed from this life on October 7, 2016. During her 94 years, Rita had a wonderfully full life buoyed by an incredibly strong faith, the deep love and respect of her friends and family, and the natural ability to turn a stranger into a pal with her smile, her wit, and her warmth.

Rita's roles were varied across the span of her life: daughter, wife, worker, neighbor, aunt and great aunt. She was a role model in every way. The fifth child of Joseph and Mabel Perry, Rita provided loving and attentive care for both of them in their final years. She was the devoted wife of Arthur J. McQuade of 30 years, a true partnership built on their shared Catholic faith, an embrace of hard work, and a healthy dose of daily laughter.

After graduating from Lowell High School, Rita attended Lowell Commercial College. Relying on her honesty and intelligence, she became a successful sales person for Thom McAn and Massachusetts Electric in an era when women were less visible on sales floors. Ever-proud of the city of Lowell, she loved her neighborhood and its residents, especially the children who beat a path to her door regularly for a cookie, a quarter, or some other surprise.

Words cannot capture how much she loved her family and friends…and how that love was returned to her. She is survived by her younger brother, Edward Perry of Costa Mesa, California and loving nieces and nephews as follows: Betty Anne Poirier (Belmont, MA), Donna and Vincent Queli (Bloomfield, NJ), Susan and Bill Stella (Rockport, MA), Jack and Lisa Hanrahan (Charlottesville, VA), Kate Levering (Philadelphia, PA), Joseph and Katarina Perry (Clare, IA), and Maureen and Edward Mazzarella (Costa, CA). Her many great nieces and nephews looked to Rita as their own grandmother.
ON WEDNESDAY, OCTOBER 12, YOU ARE INVITED TO ATTEND HER VISIATION FROM 4 - 7 P.M. AT THE MCDONOUGH FUNERAL HOME, 14 HIGHLAND STREET, LOWELL, 978-458-6816. ON THURSDAY, HER FUNERAL WILL BEGIN AT THE FUNERAL HOME AT 9 A.M. HER FUNERAL MASS WILL BE OFFERED AT ST. MARGARET CHURCH, 374 STEVENS STREET, LOWELL AT 10 A.M. BURIAL WILL FOLLOW AT ST. PATRICK CEMETERY. IN LIEU OF FLOWERS, DONATIONS IN HER MEMORY MAY BE MADE TO ST. JUDE CHILDREN'S RESEARCH HOSPITAL, 501 ST. JUDE PLACE, MEMPHIS, TN 38105.