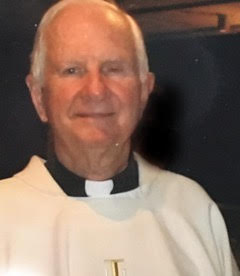 Rev. George R. Flynn

BOSTON Rev. George R. Flynn, 90, of Regina Cleri Residence, Boston, passed away April 10, 2020.
Father Flynn, born in Chelmsford, MA of Mary and George Flynn, was the oldest of seven children. He is survived by his brother, Joseph Flynn of Westwood, MA, and sister, Ann Flynn of Worcester, MA, sisters-in-law, Joan Flynn of Newton, MA, and Sheila Flynn, of Menlo Park, CA; nieces Siobhan Flynn and Donald Mendoza, Mary and Jeffrey Hodges, Mairead and Thomas Murphy and Siobhean Flynn; nephews, Stephen and Marianne Flynn, Jude and Paul Flynn, Patrick and Deborah Flynn, John and Risa Flynn, and Timothy Flynn along with several grand nieces, nephews and fellow Boston Diocesan priests and members of the St. James Society. He is predeceased by his sister, Mary Flynn of Chelmsford, MA, brother Patrick and wife, Elizabeth of Phoenix, AZ, Jude of Canton, MA and San Francisco, CA, and John of Salt Lake City, Utah, niece in law, Terry of Royal Oaks, CA, wife of Timothy,

Ordained February 2, 1956 by Richard Cardinal Cushing, Father Flynn served at St. James Church in Wellesley and St Patrick's in Stoneham.  In 1959, Fr. Flynn joined the Society of St. James the Apostle, a missionary organization founded by Cardinal Cushing for diocesan priests to serve in Latin America, which he did for 55 years.  After ministering for many years in Peru, Ecuador, and Bolivia, Fr. Flynn realized the peoples' needs to hear the word of God far exceeded the availability of religious staff to serve them.  While continuing in his parish work, Fr. Flynn founded the organization, PROSAN, a production company in Lima creating and distributing religious programming where he had served to carry the message of the word of God.  In 2019 Fr. Flynn transferred PROSAN to Radio Maria in Lima, Peru, a similar organization providing religious programming throughout all of Latin America.  Fr. Flynn received his MDiv. degree from the Boston Theological Institute and an MS in Broadcast Journalism from Boston University.  
The family is very grateful for the outstanding care and support Fr. Flynn received at Regina Cleri, a Boston Archdiocesan residence for retired clergy.  He enjoyed many years there with senior priest friends.  His family is truly grateful for the expert, generous, and warm attention and service he received from their entire staff – one and all were terrific, day in and day out. The medical staff of MGH and Hebrew Rehabilitation, Roslindale showed extraordinary sensitivity to family and faith while delivering excellent medical care under most trying personal and professional challenges during this pandemic – our prayers and heartfelt thanks to them, also.

Due to MA state regulations during the COVID-19 pandemic, a memorial mass will be celebrated at a later date and will be announced on the McDonough Funeral Home website and facebook page. Memorial donations, if desired, may be made to:  Missionary Society of St. James the Apostle, 24 Clark Street, Boston, MA 02109, or Regina Cleri, 60 William Cardinal O'Connell Parkway, Boston, MA 02114.