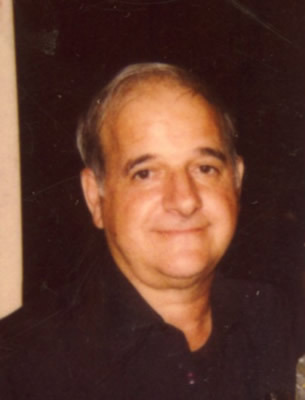 Raymond A. DeLuca

LOWELL Raymond A. DeLuca, 84, of Lowell, passed away peacefully on September 3, 2011 in the company of his family and friends.

Ray was born in Lowell on January 14, 1927. He was the son of the late Candelora and the late Maria (Cesarone) DeLuca.

He was a lifelong resident of Crosby Street in Lowell and was a communicant of the former St. Peter's Church, before later becoming a communicant of St. Michael's Church. Ray was educated at the Carter, Central Street, and the Butler Schools before graduating from Lowell High School with the class of 1945.
Ray was never married but will be deeply missed by his family and friends. His nephew, Dennis, his wife, Ann, and his nephew, Henry, cared for him toward the end. He is survived by many nieces, nephews, and friends too numerous to list who have provided many years of loving companionship.

He was a great friend and an all around nice guy. Ray liked to go out to eat, play keno, build and fly model airplanes, go shopping, and go to flea markets with his longtime friend, Mary.
He was also a brother of the late John, Edmond, Eugene, Louis, Elena Grimolizzi, Ernest, and Henry DeLuca.

Prior to his retirement he was a mechanic for Verizon Communications for twenty years. Before worked at the Boot Mills, W.T. Grants and Raytheon.

YOU ARE INVITED TO HIS MEMORIAL VISITATION FROM 10 A.M. UNTIL 12 NOON ON FRIDAY MORNING, SEPTEMBER 9 AT THE MCDONOUGH FUNERAL HOME, 14 HIGHLAND STREET, LOWELL (978 OR 800) 458-6816. HIS FUNERAL SERVICE WILL BE HELD IMMEDIATELY FOLLOWING THE MEMORIAL VISITATION AT 12 NOON IN THE FUNERAL HOME. RAY'S ASHES WILL BE SCATTERED AT A LATER DATE. IN LIEU OF FLOWERS, MEMORIALS IN HIS NAME MAY BE MADE TO THE NATIONAL KIDNEY FOUNDATION SERVING NEW ENGLAND, 85 ASTOR AVENUE, STE 2, NORWOOD, MA 02062-5040. PLEASE VISIT WWW.MCDONOUGHFUNERALHOME.COM TO SEND THE FAMILY AN E-CONDOLENCE.