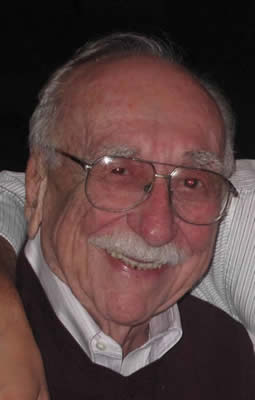 R. George Dastou

BELOVED FATHER AND BEST FRIEND,

EASLEY, SC & LOWELL, MA - R. George Dastou, died unexpectedly, Friday August 26 at his summer residence in Lowell. Born on March 20, 1923 to Zenon Dastou and Albina (Hebert) Dastou, he attended Lowell Schools finishing his education at Lowell Technological Institute.

After graduating high school, Mr. Dastou enlisted in the Army Air Corp, where he earned many battle ribbons for supporting ground forces in Northern Africa, the allied landing at Anzio, as well as the Battle of the Bulge. His air group, the 414th night fighter squadron, moved from flying his beloved, Bristol Beau Fighters to P-61 "Black Widow" night fighters during the final days of the war in Europe.
Upon returning , he married Alda (Freitas) Dastou having 2 sons, Mr. Robert Dastou and his wife Linda (Miles)Dastou,of Easley SC, and Mr. William B. Dastou Sr. and his wife Joyce (McCarthy) Dastou of Lowell Ma.

Mr Dastou worked in the wool industry in Mass, as well as South Carolina, eventually becoming one of the nations foremost experts in wool processing technology . After the passing of Mrs. Dastou in 1980, Mr . Dastou married Mrs. Joan Moore Dastou in 1985 until her passing in 2008.
Retiring in 1987 in the Myrtle Beach area, Mr. Dastou was a tireless advocate of veterans affairs, at North Litchfield Beach SC VFW Post 10420, anchoring that post Honor Guard for 20 years as well as holding many executive positions.

Mr. Dastou took great pleasure in telling private stories of his friend Jack Kerouac, who after the war spent considerable time with him while in Lowell, including the many nights when Jack crashed at Mr Dastou?s parents home.

He also enjoyed a friendly cocktail, with new and old friends at his adopted VFW Post 662 on Plain St , Lowell Ma. as well as with the members of the Tuesday Night TWI League at Mt Pleasant Golf Course, which he visited with whenever in town. The Moose Lodge in Easley SC, also was a place he took great pride in associating with, enjoying the company of its many members.

Lovingly known as ? Papa?, he is survived by 5 grandchildren, Christopher Dastou and his wife Jamie of Atlanta Ga.,Dewayne Knight and his wife Vickie, of Ringgold,Ga., Ms. Traci Dastou of Lynn Ma, Mr. William B. Dastou Jr. and his fiancée Christine Dillon of Lowell , and Robert G Dastou II, of Lowell as well as 4 great grand children . Parker, Hartley and, Brinley Dastou of Georgia and Leah Dastou of Lowell.

In lieu of flowers, people are asked to contribute to the Merrimack Valley Nutrition Program,(Meals on Wheels) 57 River Rd. Andover Ma. 01810 in his memory.

You are invited to His Memorial Mass on Friday, Sept. 2, 2011, at The Church of St. Anthony of Padua, 307 Gower St., Greenville SC. Burial will take place on Saturday, Sept 3, at 11 a.m. in Memorial Gardens Cemetery, Johnsonville, SC. Arrangements were handled by the McDONOUGH FUNERAL HOME, 14 HIGHLAND STREET, LOWELL, MA, 978- 458-6816. Memorials in his name to The Church of St. Anthony of Padua, School Fund, Greenville SC.. E-condolence site www.McDonoughFuneralHome.com