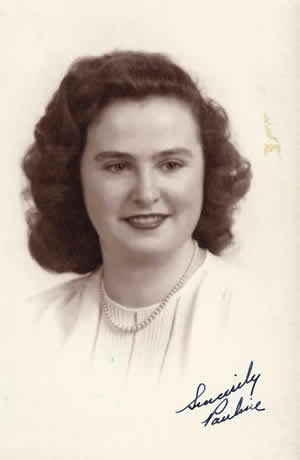 Pauline M. Gorham
CHELMSFORD        Pauline M. (McDonough) Gorham, 90, a longtime Chelmsford resident, passed away peacefully, Thursday, July 26, 2018, at the Palm Center in Chelmsford.
     Born November 17, 1927, in Lowell, she was a daughter of the late George M. McDonough, of the McDonough Funeral Home, and Catherine (Carroll) McDonough.   She attended St. Peter's School in Lowell and graduated from the Academy of Notre Dame in Tyngsboro, and attended Bradshaw Business School for two years.
        Prior to her retirment in 1997, Pauline worked for twenty years for Optronics in Chelmsford.   She had also worked part time for Mercury Computer for two and a half years.  
           She enjoyed traveling and spending time at Marco Island with her friends, and at North Myrtle Beach with her family.  She fondly remembered spending summers with her family at Hampton Beach from her childhood to also bringing her family there as well for many years. 
       She belonged to the American Legion Drum & Bugle Corps as the drum major while attending St. Peter's School from the sixth to the eighth grade.  She enjoyed her classmates from Notre Dame playing cards, travel and lunch, and to celebrate their birthdays.  She was a member of the Lowell Electric Light Girls Club of Mass Electric, the Notre Dame Alumni, was a member of the Board of Directors for the League of Catholic Women, the Poor Clare Guild, and the Blessed Virgin Sodality of St. Mary's Chursh.   She was active in the 1950's and 60's in St. Mary's Church and the C.Y.O and Chi Rio of the Parish.   
      She is survived by two daughters, Kathleen A. Kostic and her husband, Mark, of Swedesboro, New Jersey, and Jacqueline C. Kellett and her husband, Bob, of Mt. Airy, NC; her son, Kevin M. Gorham and his wife, Suzanne, of Rochester, New Hampshire,  her daughters in law, Joanne M. Gorham of Chelmsford and Mary Pat Gorham of Lowell;her ten grandchildren, Mark E. Gorham Jr., Timothy D. Gorham, Harrison E. Gorham, Jonathan F. Gorham, James G. Kostic, Brittany M. Roberts, Jessica E. Wiitala, Connor G. Gorham, Michael Kuczwara, and Jared Kuczwara; her eight great grandchildren; her two sisters, Anne Marie Cassidy and her husband, Bernie, of Lowell and Joan Denisevich of North Chelmsford; as well as many nieces and nephews and good friends.
      She was also the mother of the late David G. Gorham who died in 2000 and the late Mark E. Gorham who died October 8, 2017.           
       PLEASE MEET THE FAMILY ON THURSDAY AT 10 A.M. AT ST. MARY CHURCH 26 NORTH ROAD, CHELMSFORD FOR HER FUNERAL MASS.  BURIAL IN ST. MARY CEMETERY.   ARRANGEMENTS BY THE MCDONOUGH FUNERAL HOME, 14 HIGHLAND ST., LOWELL, 978-458-6816