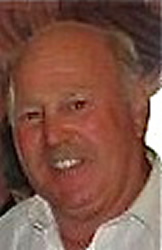 PAUL L. PROULX

FT. MYERS FLORIDA Paul L. Proulx, 69, of Ft. Myers Florida, formerly of Lowell, died after a brief illness Friday, April 2, 2010. He was the husband of the late Honor C. (Medeiros) Proulx, who passed away in 2001.

Born February 12, 1941, in Lowell, he was a son of the late Rosario Joseph Proulx, and the late Blanche J. (Cinqmars) Proulx. He attended St. Jeanne D'Arc school, graduated from St. Joseph's High School, and also attended the Lowell Technical Institute. He joined the United States Air Force upon completing his education.

After serving with the air force, he returned to Lowell. He resided on Fourth Ave for many years, and was a communicant of the former St. Jeanne D'Arc church. Mr. Proulx was a member of the Club Passe-Temps, and the Club Lafayette, he enjoyed playing cards, but mostly he enjoyed spending time with his family. He worked as a civil engineer through the International Union of Operating Engineers Local 4 of Boston.

He is survived by four sons, Wayne and his wife Laura Proulx of Westfield, Daryl Proulx and his Fiancé Lucy Sullivan of Quincy, Steven Proulx of Lowell, and Bernard and his wife Beth Chascin of California, five grandchildren, Jacob Proulx, and Dylan King of Westfield, Jack, Caroline, and Abbey Chascin of California; a brother Andre Proulx of New York, and two sisters, Blanche 'Doris' David of Chelmsford, and Pauline and her husband Richard Robidoux of Arizona, one sister in law Louise Proulx of Virginia; and a brother in law, Wayne A. Medeiros and his son, Jonathan, of Pepperell. He is also survived by his close friend Emma Field of Ft. Myers Florida.

He was also the brother of the late Cecile Kelley, Victor Proulx, and brother in law of the late Robert Kelley, Ernest 'Ernie' David and Dianna Proulx.

FAMILY AND CLOSE FRIENDS ARE INVITED TO HIS MEMORIAL VISITATION FROM 10:30 UNTIL 11:30 ON SATURDAY MORNING, AT THE MCDONOUGH FUNERAL HOME, 14 HIGHLAND STREET, LOWELL 978-458-6816. FOLLOWING HIS VISITATION HIS FUNERAL WILL BE OFFERED AT ST. ANTHONY'S CHURCH AT 12:30PM. BURIAL IN LOWELL CEMETERY. E-CONDOLENCE - MCDONOUGHFUNERALHOME.COM