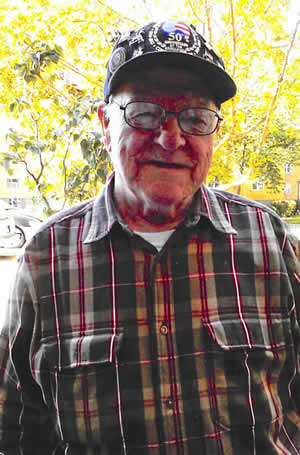 Paul N. Tanguay 'PT'
LOWELL Paul N. Tanguay, 83, a lifelong Lowell resident, passed away after a brief illness Friday, March 17, 2017 at Wingate of Belvidere.

He was born in Lowell on January 9, 1934 and was a son of the late Joseph and the late Laura (Ryan) Tanguay. He was raised in Lowell, where he attended the area schools.

In 1953, Mr. Tanguay enlisted with the United States Navy and honorably served his country during the Korean War aboard the battleship U.S.S. Iowa until his honorable discharge in 1957. Paul was employed as a painter and carpenter throughout the Greater Lowell area for his entire life and had also previously worked for Educator Biscuit for 18 years.

Paul was a member of the Gold Circle at the VFW and was well known in various social clubs in the Lowell area, where he enjoyed meeting with friends and fellow veterans throughout the years. He also enjoyed building model ships and completing puzzles. He was an avid sports fan, supporting all the local teams, especially the Boston Red Sox.

Paul is survived by his children, Lisa McGranaghan, Paul Jr., Cheryl, Doreen, Michelle, Michael and Jeffrey Tanguay, and their mother, Doreen L. (Gauthier) Tanguay; two of his siblings, Jeanette & Arthur; and 22 grandchildren, 17 great grandchildren, and numerous nieces and nephews.
He was predeceased by his siblings, Laura, Rita, Blanche, Al, Leo, Ray and Joe.

ON WEDNESDAY, MARCH 22, YOU ARE INVITED TO HIS CALLING HOURS FROM 9:30 UNTIL 11:30 A.M. AT THE MCDONOUGH FUNERAL HOME, 14 HIGHLAND STREET, LOWELL, 978-458-6816.
HIS FUNERAL SERVICE AND MILITARY HONORS WILL TAKE PLACE AT 1 P.M. AT MASSACHUSETTS VETERANS MEMORIAL CEMETERY, 111 GLENALLEN STREET, WINCHENDON, MA 01475.
DONATIONS IN HIS MEMORY MAY BE MADE TO: THE DISABLED AMERICAN VETERANS, 616 BROADWAY, SOMERVILLE, MA 02154.