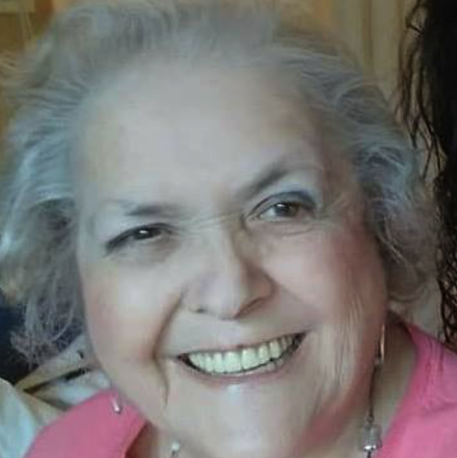 Patricia Marion 'Pat' (Kelly) Kirby

LOWELL Patricia Marion 'Pat' (Kelly) Kirby, 74, of Lowell, passed away Sunday, November 5, 2017 with her family by her side . She was the wife of the late John T. Kirby Sr. who passed away in 2002.

She was born in Boston, MA on January 4, 1943 and was a daughter of the late Edward Kelly and the late Margaret (Quinn) Kelly. She was raised and educated in the Boston area.

Pat lived in the Centralville section of Lowell and was a communicant of St. Michael Church. She was employed as a home health aide before retiring due to illness. Her favorite thing was spending time with her grandchildren and great grandchildren. Every Christmas Eve, her family would all fill her house. She would begin preparing for this early every year and would have the 'Food Sign Up' sheet available just after Thanksgiving. She also enjoyed traveling to Florida to visit family.

She is survived by her children, Patty Kirby and her husband, Peter Jones Sr., Karen Kirby and her partner, Chuck Dehney, Tommy Kirby and his wife, Isabel (Tavares), Chris Kirby and his wife, Jessica (Maille), and Timmy Kirby and his partner, Rome Zahnd; her grandchildren Elizabeth and John III and their mother, Katie Bailey, Peter Jones Jr. and his wife, Kayleigh, Catie and Georgie, Jennifer and her husband, Kevin, Jaime and Tito, Jacob, Tommy Jr., Joshua, Matthew, Stephany, Chris Jr. and Keishla, Conner, James Bond, James and Brian McKeon, Matthew Dehney, and Meghan Richards; her great grandchildren, Peter III, Emily, Macayala, Caleb, Alisia, Georgie, Austin, Dylan, Hailey, Angelina, Aiden, Mason, Annaliyah, Ethan, Nathan, and Elena. She is also survived by her sister Peggy Gordon, and her husband George, and her brother Edward Kelley of Natick; as well as several cousins, nieces, and nephews.

She was predeceased by her husband, the late John Kirby Sr.; her son, the late John Kirby Jr, and her sister, the late Maureen Leary.

YOU ARE INVITED TO HER CALLING HOURS FROM 4 UNTIL 8 P.M. ON THURSDAY, NOVEMBER 9, 2017.
ON FRIDAY, HER FUNERAL WILL BEGIN AT 9 A.M. AT THE MCDONOUGH FUNERAL HOME, 14 HIGHLAND STREET, LOWELL 978-458-6816. HER FUNERAL MASS WILL BE OFFERED AT ST. MICHAEL CHURCH, 543 BRIDGE STREET, LOWELL, AT 10 A.M..
BURIAL IN LOWELL CEMETERY.