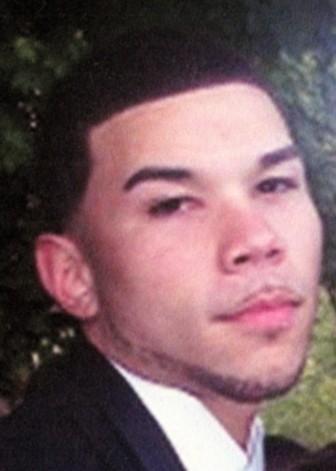 Alberto Andres 'Beava' Pagan

LOWELL Alberto Andres 'Beava' Pagan, 21, of Lowell, died unexpectedly Saturday, October 22, 2011 in Pelham, NH.

Born June 8, 1990, in Lowell, he was a son of Roberto Pagan of Lowell and Carmen Santiago of Haverhill, and he attended the local area schools.

He grew up in Lowell and currently lived in the South Lowell area. He was a hard working man, and was employed as a security officer for the past three years for Lowell General Hospital. Beava loved music and was a die hard New England Patriots Fan. He loved spending time with his family and friends, especially his pride and joy, his four year old daughter, Azzalinna Pagan.

In addition to his parents, Roberto Pagan and Carmen Santiago, he is survived by his girlfriend, Tandalaya Candelaria of Lowell; his daughter, Azzalinna Pagan of Lowell; he has a very large family including the Franco Family, two brothers, Roberto Pagan Jr. of Lowell, and Gilberto Pagan of Dracut; three uncles, Jose Olavarria, Noel Pagan both of Lowell, and Luis Antonetty of Springfield; his aunt Rose Lee Pagan of Lowell his mother in law, Nannette Hernandez of Lowell; his grandmothers, Maria Nieves and Rosa Franco both of Lowell; his grandfather, William Pagan of Lowell; his bodyguard, Margarita Serrano of Lowell; and many close aunts, uncles, cousins, friends, nieces and nephews.
YOU ARE INVITED TO HIS VISITATION ON FRIDAY MORNING FROM 10 A.M. UNTIL 12 NOON AT THE MCDONOUGH FUNERAL HOME, 14 HIGHLAND STREET, LOWELL 978-458-6816. HIS FUNERAL SERVICE WILL BE HELD AT 12 NOON IN THE FUNERAL HOME FOLLOWING HIS VISITATION. BURIAL IN WESTLAWN II CEMETERY.