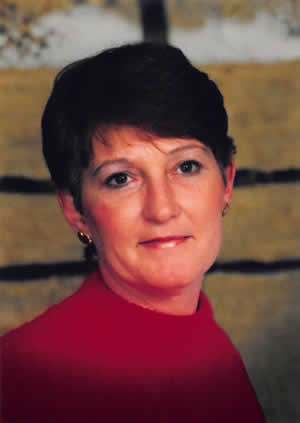 Nancy A. 'Mammy' Desmond
LOWELL       As expected by Nancy (as should be by all in her humble opinion) our good friend has ceased to exist after an exciting spin this time around.
     She grew up in one of the most turbulent time periods of the last Century and was a true 'Child of the 60's' in every sense of the word. She strongly believed in personal freedom and the right to voice her own opinion.
     To her family, Mammy was the one everyone went to for love. Her husband, children, grandchildren, and extended family were her life and she loved them unconditionally. They will all have the very best of memories having been blessed with her love and support over the years.
     A truer friend was never had. Nancy would bail you out of jail in a heartbeat but more importantly would be at your side to the end. Her sense of humor was unique. She could make you laugh no matter what the situation. We who were counted among her friends were indeed lucky.
    We are all richer for having been part of her life and will miss her forever. Until we meet again!
     Nancy leaves her loving husband, Wayne; her daughter Tracy Haakenstad and her husband, Brian; her son Bruce Desmond and his wife, Donna; six grandchildren, Krisann Landry, Katheryn Burk, Samantha Burk, Deanna Desmond, Thomas Peter Desmond and Kayla Haakenstad; four great grandchildren, Ivanna Bahou, Michael Boyce, Marie and Olivia Geraldo; a sister, Gail Byam; three brothers, Thomas Totton, Vernon Totton and David Totton; her aunt, Phyllis Panagiotareas along with many relatives and friends including her cousin, Karen Witts and her husband Paul and her dear friends Pat and Billy Martel, Mary Sloan and Mary Melville.
     She was predeceased by her parents, Rita and Vernon Totton, her brothers, Stephen, Robert, and William Totton and her uncle Pete Panagiotareas and her beloved dog Junior.
           PLEASE JOIN HER FAMILY FOR HER FUNERAL MASS ON SATURDAY, MAY 20 AT 10 A.M. AT ST. MARGARET PARISH, 374 STEVENS ST, LOWELL
ARRANGEMENTS BY THE MCDONOUGH FUNERAL HOME, 14 HIGHLAND STREET, LOWELL 978-458-6816. 
MEMORIALS IN HER NAME TO LOWELL GENERAL HOSITAL CANCER CENTER, 295 VARNUM AVE, LOWELL MA 01854.