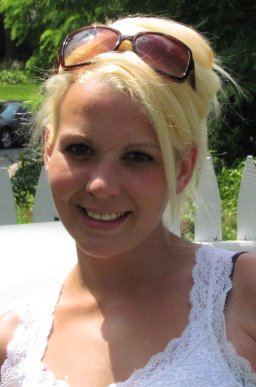 Megan Elizabeth Grover

DRACUT Megan Elizabeth Grover, 26, of Dracut, died unexpectedly, Tuesday, December 30, 2014. She was the beloved daughter of Tim Grover and his wife, Christine, of Dracut and Theresa (Smith) Olkkola and her husband, Ari, of Greenville, NH.

She was born February 17, 1988, in Lowell, and was raised and educated in Lowell.

For the past seven years, she made her home in Dracut, and enjoyed reading, music, laughing and spending time with her family. For more than ten years, she worked as an office assistant with Madison Security Group of Lowell.

In addition to her parents, Tim and Christine Grover, and Theresa and Ari Olkkola; she is survived by her sisters, Caitlin Grover of Lowell, Shannon Grover of North Carolina, and Madison Grover of Dracut; her nieces Makenzie and Kaleigh Chalke; her grandparents, Bruce and Dawn Smith of Munsville, NY, Bea Grover of Dracut, Robert and Doris Parks of Dracut, and several aunts, uncles, cousins, and friends.

She was also a granddaughter of late Frederick Grover.

YOU ARE INVITED TO HER CALLING HOURS FROM 4 UNTIL 8 P.M. ON MONDAY, JANUARY 5 , AT THE MCDONOUGH FUNERAL HOME, 14 HIGHLAND ST., 978-458-6816. ON TUESDAY, HER FUNERAL SERVICE WILL BE HELD AT 10 A.M. AT THE FUNERAL HOME. BURIAL IN WESTLAWN II CEMETERY.