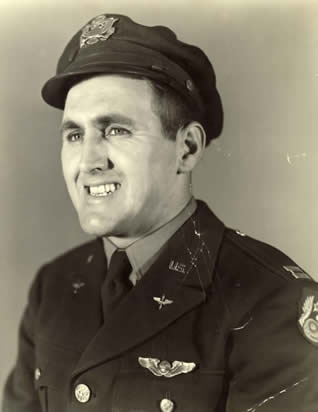 Maurice Patrick Mason
CHELMSFORD Maurice Patrick Mason, 92, of Chelmsford, passed away peacefully on Thursday, July 16, 2009, at his home with his family by his side. He was the widower of the late Mary (Harrison) Mason.
Born October 28, 1916, in Lowell, he was a son of the late George W. and the late Anna M. (Wade) Mason, and was educated in the local schools. He then attended New England College of Pharmacy, receiving his Bachelor's Degree of Science in Pharmacy. He served with the U.S. Army Air Corp as a Group Navigator dropping the 1st wave of Paratroopers on the eve of D-Day, receiving the ETO Theater Ribbon with seven Bronze Stars, the Air Medal with three Oak Leaf Clusters, and a Presidential Unit Citation.
Mr. Mason made his home in Lowell for seventy two years before moving the Chelmsford, and was a communicant of Immaculate Conception Church and more recently attended St. Mary's Church in Chelmsford. He was a member of the Oblate Men's Guild for over forty years.
Maurice loved to read and was a devoted sports fan of both the Boston Red Sox and the New England Patriots, but his favorite pasttime was spending time with his grandchildren and great grand children, especially playing with his great grandsons, Grant and Benjamin. He was a firefighter for the City of Lowell for thirty two years working out of Engine #1 and owned and operated Mason's Pharmacy with his son, Richard, on East Merrimack for twenty seven years.
He is survived by his daughter, Maureen P. Mason of Chelmsford, with whom he made his home; a son, Attorney Maurice P. Mason Jr. and his wife, Maria (Vejar) Mason, of Dracut; his grand children, Maureen E. Dickieson and her husband, Ernie, of Hudson, NH, Stephen J. Mason Jr. and Florencia Gazzolo of Thornton, NH, Michael P. Mason of Lowell, Daniel T. Mason of Whitman, Robert D. Mason of Whitman, and Carolina M. Vejar-Mason of Dracut; great grandsons, Grant E. Dickieson and Benjamin P. Dickieson both of Hudson, NH; daughters in law, Katherine Mason of Whitman and Sheila Mason of Hudson, NH.
He was also the father of the late Richard T. Mason and the late Stephen J. Mason, and father in law of the late Louise C. (Gauthier) Mason and grandfather of the late John Andrew Mason.
YOU ARE INVITED TO CALLING HOURS 2 UNTIL 8 P.M. ON MONDAY, JULY 20 FOR MAURICE AND HIS SON, STEPHEN. THEIR FUNERAL WILL BEGIN TUESDAY AT 9 A.M. AT THE MCDONOUGH FUNERAL HOME, 14 HIGHLAND STREET, LOWELL 978-458-6816. THEIR FUNERAL MASS WILL BE OFFERED AT IMMACULATE CONCEPTION CHURCH AT 10 A.M.. BURIAL IN ST. MARY CEMETERY. IN LIEU OF FLOWERS, MEMORIALS IN THEIR NAMES TO THE OBLATE INFIRMARY FUND, 487 CHANDLER ST., TEWKSBURY MA 01876. E-CONDOLENCE SITE WWW.MCDONOUGHFUNERALHOME.COM