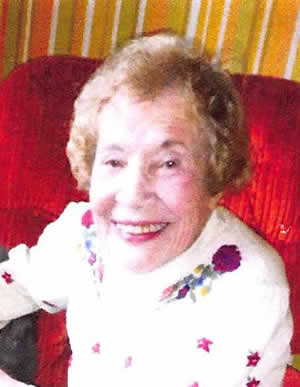 Mary P. Seman

ANDOVER       Mary P. Seman, 100, of Andover, MA passed away peacefully at her home on Sunday, May 5, 2019.  

     Born in Lowell, MA on February 9, 1919, she was the daughter of the late Rose and Manuel Perry and the sister of the late John Perry. She was the wife of the late Edgar Seman to whom she was married for 56 years. She was also predeceased by her two nieces, the late Cynthia Sheehy and the late Janice Downs, who she raised and cared for as her own children after their parent's deaths.

     Mary graduated from Lowell High School and Lowell Commercial College and subsequent to her graduation she was employed for 57 years by the Federal Government, the last 17 years of which she was a civilian employee of the U.S. Air Force.

     During her government employment she received many merit awards and upon her retirement she was presented with the Air Force Meritorious Civilian Service Award, the second highest award that can be bestowed upon a civilian by the U.S. Air Force.

     Mary and her husband had an extremely close and loving relationship and traveled extensively together. Mary loved animals especially cats, and she adopted and cared for many over her life. Mary was well known for her extreme generosity to many of her family members along with her generosity to several animal organizations and other charitable causes.

     She is survived by numerous extended family members but she was especially close to and fond of Diane Sheehy and her son, Abebe, Paul Sheehy, Gerald Katibian and his wife, Nelda, Laurie Libitz and her husband, Paul, Joanne Lowe and her husband, Cameron, Ellie Weedon and her husband, William, Fran Knowles and her husband, Ian, and the entire Doherty family.

     Mary's family would like to extend their thanks and appreciation to all the medical and hospice staffers, doctors, nurses, physical therapists, social workers, and care providers who provided care for Mary.

     And a special thank you to care providers and support team members, Madeline Rivera, Tiffany Colon, Ashanti Colon, Dan and Donna Doherty, Maggie and George Mellonakos, Jerry Fitzpatrick, Roger Cogan, Atty. Wm. Martin, nurse Jackie Quinlan and the Burgess family, for all the help, support, care, love, and comfort that they provided to Mary during her life.

     FAMILY AND FRIENDS MAY ATTEND HER CALLING HOURS FROM 9 A.M. TO 10 A.M. ON  SATURDAY, MAY 18 AT THE MCDONOUGH FUNERAL HOME, 14 HIGHLAND ST., LOWELL 978-458-6816. 
CALLING HOURS WILL BE FOLLOWED SATURDAY BY A CELEBRATION OF LIFE MASS AT 11 A.M. AT ST. ANTHONY'S CHURCH, 893 CENTRAL ST., LOWELL. AFTER MASS, BURIAL WILL  FOLLOW AT ST. PATRICK'S CEMETERY IN LOWELL. 
IN LIEU OF FLOWERS, MEMORIAL CONTRIBUTIONS CAN BE MADE IN MARY'S MEMORY TO: THE MSPCA/ANGEL, 400 BROADWAY, METHUEN, MA 01844 OR TO THE CHARITY OF ONE'S CHOICE.