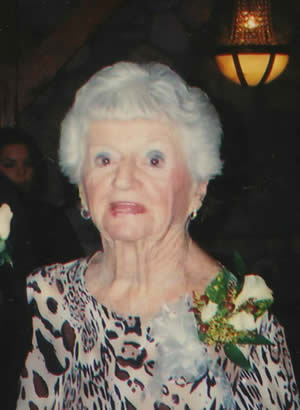 Mary Hill
LOWELL Mary (Cosgrove) Hill, 94, of Lowell, passed away on August 27, 2014 at the Blaire House of Tewksbury. She was the widow of Thomas F. Hill.
Born May 24, 1920, in Quincy, she was a daughter of the late Thomas, and the late Mary Cosgrove. She grew up in Westford's Forge Village and she graduated from Westford High School. In her younger days she worked for Keystone Camera Company in Quincy, and after her marriage she stayed home to care for her family. She made her home in Lowell, and was a communicant of the Immaculate Conception Church. She enjoyed spending time at the east end club, and the Lowell Senior center. She also enjoyed swimming, bowling and traveling especially to Squam Lake, and CoCo Beach, Florida.
She is survived by her son Thomas J. Hill and his wife Veronica of Tewksbury; three grandchildren, Tina Hildreth and her husband John of Lowell, Shawn Hill and his wife Diane of Ashby, and Derek Hill and his wife Danielle of Chelmsford; four great grandchildren Ava Hill, Austin Hill, Zak Hill, and Logan Hill; her son in law Theodore Marcopolous of Lowell. She was the mother of the late Sharon Hill and the late Sheila Marcopolous.
In accordance with her wishes her burial was held privately at St. Patrick Cemetery. Arrangements by the McDonough Funeral Home, 14 Highland Street, Lowell, MA 978-458-6816.