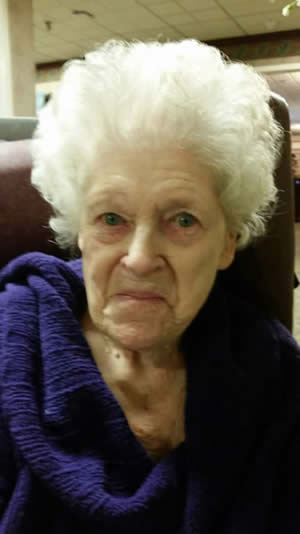 Marion M. Vasey

LOWELL    Marion M. (Tonks) (Ramsden) Vasey, 93, of Lowell, passed

away Tuesday, January 22, 2019 at Blaire House of Tewksbury. She was

the wife of the late William Ramsden III and of the late Roy Vasey.
    She was born in Lowell on August 19, 1925 and was a daughter of

the late John 'Jack' Tonks and the late Edith (Davidson) Tonks. She

was raised on Billerica Street and graduated from Lowell High School.
    Marion was an active member of the Lawrence Street Church and was

previously employed as a cashier at Rex Market, Lewis' Market, and

Brooks. She enjoyed spending time with her family, camping, taking the

bus "down city", and having lunch with friends.
    She is survived by her son, Charles S. Ramsden and his late wife,

Deborah of Lowell; her daughter, Nancy Gilmartin and David Sousa of

Wilmington; and Susan Ramsden of Lowell. Her grandchildren, Kristen

DiSanzo, Steven Ramsden and his wife, Carolann, Melanie Foley and her

husband, Donny, and Timothy Ramsden. She is also survived by five

great-grandchildren, Samantha, Alissa, Madison, and Khloe Ramsden, and

Donald John 'DJ' Foley; and many loved and cherished nieces and

    She was predeceased by her siblings and their spouses, Jack and

his wife, Agnes 'Nessie' Tonks, Betty Tonks and her husband, Arthur

Fitzgerald, and Jerry and his wife, Roberta Tonks.
    ON SUNDAY, JANUARY 27, HER FAMILY IS INVITED TO A PRIVATE FUNERAL

SERVICE AT 5 P.M. AT THE LAWRENCE STREET CHURCH, 1189 LAWRENCE STREET,

LOWELL, MA 01852.
FOLLOWING THE SERVICE, EVERYONE IS WELCOME TO JOIN

THE FAMILY FOR A CELEBRATION OF MARION'S LIFE AT 6:30 P.M. AT THE

KNICKERBOCKER CLUB, 36 CHAMBERLAIN STREET, LOWELL, MA.
MEMORIALS IN HER NAME TO
ST. JUDE'S CHILDREN'S HOSP. 501 St. JUDE PLACE, MEMPHIS,

TN 38105, OR TO NEW ENGLAND HOSPICE, 190 OLD DERBY ST. #304, HINGHAM,

MA 02043.
ARRANGEMENTS BY THE MCDONOUGH FUNERAL HOME, 14 HIGHLAND

STREET, LOWELL, MA 978-458-6816
HER NAME TO