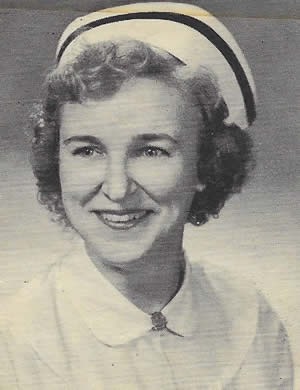 Marion Frances Connors, R.N., B.S.N, M.S.N.,

DRACUT Marion Frances Connors, R.N., B.S.N, M.S.N., 95, of Dracut, passed away peacefully, Thursday, February 16, 2017 at D'Youville Senior Health Care Center. She was a daughter of the late John F. and the late Sadie A. (Leahey) Connors.

Born May 13, 1921, in Lowell, she had the nickname of 'Sunshine' because of her lovely personality. After graduating from St. Peter's School, she became a Captain in the Girl Officers Regiment at Lowell High School. Marion earned an R.N. from St. John's School of Nursing, a B.S.N. in Nursing from Boston University, and a Masters in Nursing from Boston College.

In January of 1944, she enlisted with the United States Navy serving as a Registered Nurse for three years at the U.S. Naval Hospital at Camp LeJeune in North Carolina. After her honorable discharge, she worked as an Inspector for the 'Poor Farm' for one year before becoming a supervisor and instructor in Obstetrics and Gynecology at the former Boston Lying-In Hospital, currently Brigham & Woman's Hospital, for three years. She then was the office nurse for Dr. Capers for three years. Marion taught Licensed Practical Nursing and Level Four High School Nursing at Lowell Trade School where she started the child care program. She later started the Geriatric Program at the Lowell Vocational School and for more than twenty seven years, taught Nursing at the Lowell Vocational School in the graduate program for Licensed Practical Nurses, bringing her students to D'Youville Senior Center for practical experience.

In her retirement, she was a Eucharist Minister for D'Youville Senior Center and was an associate Sister of Charity of Ottawa for many years.

Her survivors include her nieces and nephews, Sally M. Bettencourt of Nashua, NH, Kathleen Witham of Cedarburg, WI, Andrea Ferrick RN of Newburyport, Maureen Columbino of Newbury, MA, Genevieve Clifton of Reidsville, NC, Peter Smithson of Sommerworth NH, Phillip Smithson of Seabrook, NH, and Jude Smithson of California; and many beloved grand and great grand nieces and nephews.

She was also a sister of the late Genevieve Smithson, the late Helena M. Brodley, and the late Marguerite Connors, and aunt of the late Rev. Thomas Brodley, SJ, the late Frank Brodley, and the late Alberto Smithson.

ON MONDAY, FEBRUARY 20, YOU ARE INVITED TO HER VISITATION FROM 10 UNTIL 11 A.M. AT STE. MARGUERITE D'YOUVILLE CHURCH, 1340 LAKEVIEW AVE. DRACUT, MA.
HER FUNERAL MASS WILL BE OFFERED MONDAY AT 11 A.M. AT THE CHURCH. ARRANGEMENTS BY THE MCDONOUGH FUNERAL HOME, 14 HIGHLAND STREET, LOWELL 978-458-6816.