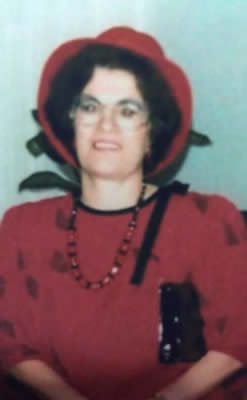 Maria L. Realejo

LOWELL Maria L. (Madeira) Realejo, 87, of Lowell, passed away peacefully Tuesday, June 25, 2019, with her family at her side after a lengthy illness. She was the widow off the late Alfredo Realejo who died in Portugal in 1993.

A daughter of the late Gabriel Madeira and the late Maria Jose (Da Costa) Madeira, she was born October 16, 1931, in Sao Miguel Azores Portugal, and was raised and educated there. In 1978, she moved with her family to the United States making her home in Lowell for more than forty years and was a communicant of St. Anthony's Church.

While in Portugal, she worked in a tuna factory, and worked in the electronics field as an assembler in the United States for many years prior to her retirement.

Maria loved her family, and loved time spent with her children and especially with her grand children, as well as her great grandchildren and loved time spent with family at the Portuguese feasts. She also loved cooking and enjoyed family gatherings that involved her cooking for everyone.

Her survivors include her children, Miguel Realejo and his wife, Maria, of Lowell, Ermelinda Sousa and her husband,Lazaro, of Montreal, Canada,

Maria Oliveira of Lowell, Olinda Bolarinho and her her husband, Aires, of Toronto, Canada, Rosa Paz and her husband, Joao, of Lowell, and Jose Realejo and his wife, Rosa, of Lowell; her sixteen grandchildren, Donald Realejo, Glenn Realejo, Donny Sousa, William Sousa, Alfredo Oliveira, Paula McGuire, Lucia Ponte, Debbie Fox, Tanya Vieira, Valdmar Rodrigues, Lelia Arruda, Arthur Rodrigues, Tania Rodrigues, Joey Rodrigues, Jeffrey Realejo, and Jennifer Arruda;her twenty three great grandchildren; her sisters, Ermelinda Ponte, and Isaura Vieira both of Montreal,Canada; her brothers, Miguel Madeira and his wife, Liberta, and Antonio Madeira and his wife, Aldina, all of Montreal, Canada; and many nieces and nephews.

She was also the sister of the late Eduarda Martins and her husband, Jermias, and sister in law of the late Oracio Ponte and the late Antonio Vieira, grandmother of the late Gary Bolarinho and mother in law of the late Antonio Oliviera.

ON SATURDAY YOU ARE INVITED TO HER CALLING HOURS 9 UNTIL 11 A.M. AT THE MCDONOUGH FUNERAL HOME, 14 HIGHLAND STREET, LOWELL 978-458-6816. ON SATURDAY, HER FUNERAL WILL BEGIN AT 11 A.M. FOLLOWED BY HER FUNERAL MASS AT ST. ANTHONY'S CHURCH, 893 CENTRAL ST., LOWELL AT 12 NOON. BURIAL IN ST. JOSEPH CEMETERY.