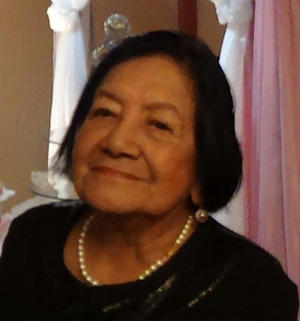 Maria Olimpia Meza
LOWELL     Maria Olimpia Meza, 96, of Dracut, passed away peacefully on Wednesday, October 31, 2018, at her home after a long illness, surrounded by her loving family.
     A daughter of the late Juan Meza and Graciana, she was born July 28, 1922, in Ecuador and was raised and educated in that area.  
      While in Ecuador, she was one of the first top female Postmasters. She was an incredible human being. She was creative, talented and enjoyed embroidery, knitting, designing dresses,drawing, painting, cooking  sewing and more. She moved with her daughter to the United States in 1975 settling in Massachusetts. An incredible role model to her family, she was a kind and loving person. She enjoyed having friends and family around her. She made sure that the many lives she touched in both her native Ecuador and in the United States benefited from her helpfulness and care and concern. 
    She made her home in Dracut, and was a communicant of St. Patrick Church in Lowell.
     Maria Olimpia's family would like to extend their thanks and appreciation to the Circle Home family who took such loving care of her. The Elderly Services in Lawrence, Dr. Bhat, Dr.  David Morley. Dr. Carlos Del Rio, Dr. Lawrence Fadjo, Dr. Pizutto, all her Home Aids and PCAS. 
     Her survivors include her children, Hugo Torres of Waltham, Luis Vasquez and his wife, Maria Ortiz, Ecuador, Jorge Vejar and his wife, Lucia Flores of Ecuador, and Maria Vejar-Mason and her husband, Maurice P. Mason Jr., of Dracut; her ten grandchildren; her ten great grandchildren; her brother, Bolivar Meza of Ecuador and her sister, Zoila Meza of Ecuador; and several nieces and nephews, and cousins.
     She was also a sister of the late Alejandro Meza and the late Gilberto Meza.
      ON MONDAY, NOVEMBER 5, THERE WILL BE A PRIVATE VISITATION FROM 8 A.M. - 9 A.M. AT THE MCDONOUGH FUNERAL HOME, 14 HIGHLAND STREET, LOWELL. 
FAMILY & FRIENDS ARE WELCOME TO JOIN THE FAMILY FOR HER FUNERAL MASS MONDAY AT 10 A.M. AT ST. PATRICK CHURCH, 285 SUFFOLK ST., LOWELL. 
BURIAL WILL FOLLOW IN ST. MARY CEMETERY.
DONATIONS IN HER NAME MAY BE MADE TO: THE MARIA OLIMPIA MEZA SCHOLARSHIP FUND, C/O ENTERPRISE BANK, LOWELL, MA.