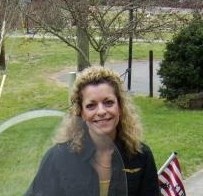 KNOXVILLE, TN Maria M. 'Nelinha' Carter, 45, of Knoxville, Tennessee, died unexpectedly Sunday, December 13, 2009 at her home. She was the wife of John Carter, with whom they celebrated their 12 Wedding Anniversary this past June 12.

Born November 6, 1964, in Graciosa, Portugal, she is a daughter of Judite (Bettencourt) Silva of Lowell, and the late Marcelino S. Silva. She came to the United States at a very young age with her family, settling in Lowell in 1966. She was raised and educated in Lowell, attended local schools, graduating from Greater Lowell Technical High School and later graduating from Newbury College.

She resided in Knoxville, Tennessee since 1999 and was a former member of St. Anthony's Church, in Lowell. She was employed as an office administrator for Goodson Brothers Coffee for over ten years. She enjoyed volunteer work and biking.

Besides her husband, John, she is survived by a step daughter, Rachael Carter of Florida; and a step son, Devin Carter of Florida; two sisters, Fernanda Silva of North Chelmsford, and Maria Dery and her husband, John, of Lowell; two brothers, Fernando Silva and his wife, Carol, of Aberdeen, MD, and Roy Silva and his wife, Kim of Hudson, NH; two step grandchildren Kyla and Patience both of Florida; nieces and nephews, Kristyn Dery of Malden, Jessica Dery of Lowell, Robert Cody of North Chelmsford, Christopher and Jonathan Silva of Aberdeen, MD, and Michael Anthony and Ashley Silva of Hudson, NH. She is also survived by many aunts, uncles, cousins, and friends including her cousin and closest friend, Lisa (Braga) Richards of Lowell.

YOU ARE INVITED TO HER CALLING HOURS 9 UNTIL 10 A.M. ON SATURDAY, DECEMBER 19, AT THE MCDONOUGH FUNERAL HOME, 14 HIGHLAND STREET, LOWELL 978-458-6816. HER FUNERAL MASS WILL BE OFFERED AT ST. ANTHONY'S CHURCH AT 11 A.M.. BURIAL IN ST. JOSEPH CEMETERY. E-CONDOLENCE SITE WWW.MCDONOUGHFUNERALHOME.COM