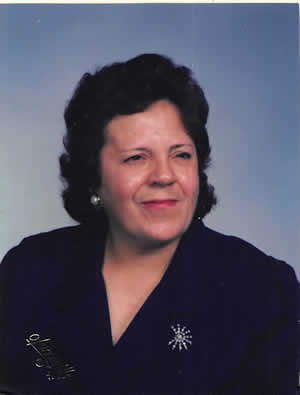 Maria Luisa Ferreira
LOWELL Maria Luisa (De Sousa) Ferreira, 75, of Lowell, passed away Monday, December 5th 2016, at Northwood Rehabilitation and Healthcare Center after a brief illness with her family by her side. She was the widow of the late Albano Furtado Ferreira who passed away October of 2016 after 51 years of marriage.

She was born on November 28, 1941 in Sao Miguel, Azores, Portugal and was a daughter of the late Jose Inacio De Sousa and the late Maria Do Carmo Couto. She was raised and educated in the Azores where she later raised her family before moving her family to the United States in 1980, settling in the city's Back Central Street neighborhood.

Maria was a devoted communicant of St. Anthony Church for many years. In her younger days, she was employed as a seamstress for Joann Fabrics for many years before becoming a production operator at Americraft for many years before her retirement. She enjoyed crochetting, sewing, and cooking. Maria was the nucleus of her family, and she loved family gatherings or anytime she got to spend with her family.

She is survived by her children, Benvinda M. Ferreira of Lowell, Elia M. Jeffrey and her husband, Steven Caruso of Lowell, Albano S. Ferreira and his wife, Holly of Lowell, Luisa McCrensky and her husband, Darrell of Chelmsford, and Debra Morris and her husband, Chris, of Chelmsford; and her nine grandchildren, Brenda Ferreira, Caleb Jeffrey, Taylor Jeffrey, Halle Ferreira, Alicia Ferreira, Jake Ferreira and Kole Ferreira, Samuel McCrensky and Robert McCrensky. She is also survived by her siblings, Jilberto Inacio De Sousa and his wife, Isabel Ferreira De Sousa of Argentina, and Maria Do Carmo Correia and her husband, Adelino of Victoria, British Colombia, Canada; her sister in law, Luiza Tavares Sousa of Victoria, British Colombia, Canada and many nieces, nephews, cousins and friends.

She was also predeceased by her daughter, the late Ermenia Ferreira and her brother, the late Jose Manuel Sousa.
ON FRIDAY, DECEMBER 9, YOU ARE INVITED TO HER CALLING HOURS FROM 8 UNTIL 10 A.M. AT THE MCDONOUGH FUNERAL HOME, 14 HIGHLAND STREET, LOWELL 978-458-6816. HER FUNERAL MASS WILL BE OFFERED AT ST. ANTHONY CHURCH, 893 CENTRAL ST., LOWELL AT 11 A.M.. BURIAL IN LOWELL CEMETERY.