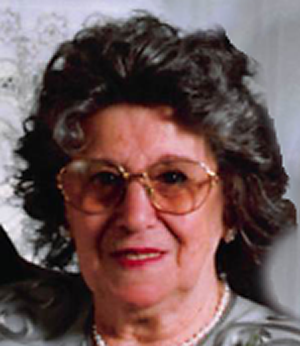 Maria L. DaSilva
LOWELL       Maria L. (Mendonca) DaSilva, 95, of Lowell, passed away Thursday, December 21, 2017, at Heritage Nursing Home after a brief illness. She was the widow of the late Jose C. DaSilva who died in 2000 after 57 years of marriage.
     A daughter of the late Adelaide de Gloria (Mendonca) Moniz, she was born December 7, 1922, in Graciosa, Azores, Portugal, and was raised and educated in that area.  She raised her family there until 1980 when she came to the United States, settling in Lowell's Back Central Street Neighborhood.
     She was a communicant of St. Anthony's Church, and was a gifted seamstress, who enjoyed making clothes for her family.  She also enjoyed crocheting, loved to cook, and looked forward to shopping, but her favorite pastime was spending time with her family, especially her cherished grandchildren and great grandchildren.
     She is survived by her daughters, Maria Ligia M. Mendonca of Sarnia, Canada, Maria E. Silva and her husband, Carlos, of Lowell, and Hilda S. Rola of Lowell; her beloved grandchildren, Maria Mendonca of Sarnia Canada, Elizabeth Mendonca-Roestenberg, and her husband, Jeff, of London, Canada, Nancy Mendonca of Toronto, Canada, Carla Vasconcelos and her husband, Danny, Alan Rola, and Nicolle Rola all of Lowell; her great grandchildren, Christina Machado and Corey Machado of Sarnia Canada, Alexis Faria, Gabriela Vasconcelos, and Tiago Vasconcelos all of Lowell, and Lincoln Roestenberg, Roman Roestenberg, and Stella Roestenberg all of London, Canada; her sister, Maria A. Bettencourt of Lowell; and several nieces, nephews, cousins, and Godchildren.
      ON TUESDAY, DECEMBER 26, YOU ARE INVITED TO JOIN HER FAMILY FOR HER FUNERAL MASS WHICH WILL BE OFFERED AT ST. ANTHONY'S CHURCH, 893 CENTRAL STREET, LOWELL AT 11 A.M..
BURIAL IN ST. MARY CEMETERY.