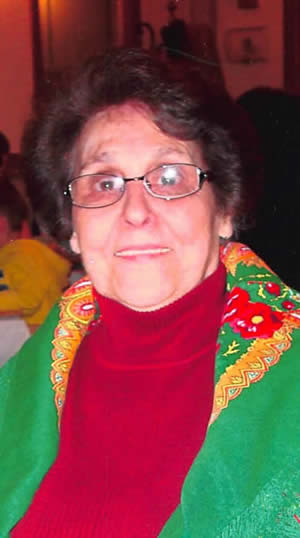 Maria J. Santos

LOWELL        Maria Jesus da Silva dos Santos, 83 of Lowell, passed away after a short illness, Sunday September 30, 2018 at the at the Sweetland Wing at D'Youville Manor Lowell MA. Maria is survived by her husband of Sixty One years, Gregorio da Silva dos Santos.

      Maria was the daughter of the late Manuel Avila da Silva and Candida do Coraçao deJesus of Graciosa Acores Portugal. She was born May 22, 1935 in Graciosa Acores Portugal. She grew up in Guadaloupe, Graciosa, Azores, got married and gave birth to her first two children there, living there until September of 1969 when she came to the United States of America with a work Visa from Nathan Solomon and made Lowell her home until her passing. In 1968 she gave birth to her third child.

        She was community member of Saint Anthony's Church and other Portuguese organizations in the area.   Maria went on to work at different companies in the area, including Wang laboratories and Joan Fabrics until her retirement.

      Maria was fun loving person who easily made friends, with her smile and jokes, Maria had many loyal friends who cared for her dearly. She loved to cook and prided herself on making Portuguese sweet bread and Sopas do Divino Espirito Santo. She was most happy when her basement tables were full with relatives and friends, and everyone having a good time.

      In addition to her loving husband, Gregorio, she is survived by her children, Walter Santos and his wife, Teresa, of Lowell, her daughter Maria Nazare Lobao and her husband, Joe, of Lowell, her baby boy, Paul D. Santos and his wife, Lisa, of Hampton NH; her sister, Alexandrina Espinola and her brother Jorge Silva and his wife, Graziela, all from Methuen MA; her granddaughter Sonia Santos Soares and her husband ,Jason, of Everett Ma; her grandsons Andrew Santos, Sean, Jason, Philip, Nathan and Kyle Lobao all from Lowell; and her two great-grand-daughters whom she loved very much, Abrianna and Giavana.

       Maria was also a cousin of the late Ernest Ramalho, a niece of the late Carlota Ramalho of Lowell and sister-law of the late Joao Espinola of Methuen. 

       She also leaves her brother in-law Joao Santos and his wife, Maria de Lurdes, from Canada as well as many, nieces and nephews in Massachusetts, Canada and Graciosa Acores Portugal.

       Maria's family would to thank the office of Doctors Mark and Andrew Romanowsky who she loved, for the dedication, support and friendship they shared towards our mother for the last 35 years. We would also like to thank everyone at D'Youville Manor, Sweetland Lane who had anything to do with our mother's health, for their love professionalism and care given to our mother.

       YOU ARE INVITED TO HER CALLING HOURS 4 UNTIL 8 P.M. ON WEDNESDAY.   ON THURSDAY, HER FUNERAL WILL BEGIN AT 9 A.M. AT THE MCDONOUGH FUNERAL HOME, 14 HIGHLAND STREET, LOWELL 978-458-6816.  HER FUNERAL MASS WILL BE OFFERED THURSDAY AT ST. ANTHONY CHURCH, 893 CENTRAL ST., LOWELL AT 10 A.M..  BURIAL IN ST.  PATRICK CEMETERY. 
MEMORIALS IN HER NAME CAN BE MADE TO BRIGHAM AND WOMEN'S HOSPITAL, DEVELOPMENT CENTER, BURNS CENTER, 116 HUNTINGTON AVE, 5TH FLOOR, BOSTON MA 02116