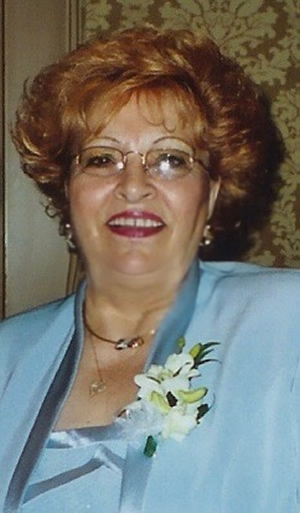 Maria E. Rocha

LOWELL     Maria Encarnacao Rocha passed on September 1, 2018 at 86 years old.

      She was born in Santa Luzia Terceira, Azores Portugal. She was raised and educated in the Azores. Immigrated to the United States in the mid 1980's and worked at Tewksbury Hospital.

     She enjoyed cooking and baking for her family, her favorite pass time was sewing and embroidery. She was a woman of faith, read the bible daily and longtime parishioner of St. Anthony Catholic Church in Lowell. She was the life of the party with her outgoing personality; she looked forward to attending the many Portuguese feasts with her family and friends. She was raised in a large family and valued the importance of family, her five daughters were the love of her life; Natal Silva of New Jersey (spouse Joe), Helen Codorniz of Massachusetts (spouse Jose), Margarida Costa of New Hampshire (spouse Carlos), Paula Rufo of California (spouse Marco), and Luisa Godinho of Massachusetts, her eight grandchildren; Michelle, Robert, Joseph, Vanessa, Christopher, Alyssa, Alexia, Olivia, and seven great grandchildren. She is also survived by her sisters; Maria Coltilde Santos of Canada, Maria Dos Santos Machado of Brazil and her brother, Bernardo Rocha of Terceira, Azores and many nieces and nephews.
 
      She is now an angel in heaven with her late father Antonio Inacio Rocha, mother Conceicao (Leonardo) Rocha, Sister Maria Gabriela Rocha, Brother Joao Gaspar Rocha and grandson Steven Silva.

    FAMILY AND CLOSE FRIENDS ARE INVITED TO HER VISITATION FROM 9 UNTIL 11 A.M. ON SATURDAY, SEPTEMBER 8 AT THE MCDONOUGH FUNERAL HOME, 14 HIGHLAND STREET, LOWELL 978-458-6816.
HER FUNERAL SERVICE WILL BE HELD AT THE FUNERAL HOME IMMEDIATELY FOLLOWING THE VISITATION SATURDAY AT 11 A.M. WITH A PROCESSION TO FOLLOW FOR BURIAL AT LOWELL CEMETERY.