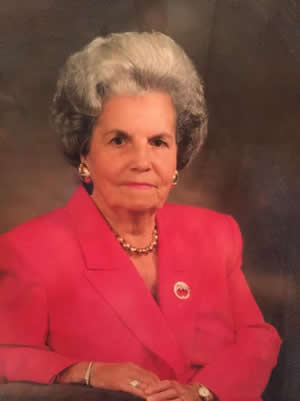 Margaret Winifred Broderick Cole
Beloved Mother, Wife and Civic Champion
Chelmsford - Margaret (Peggy) W. Cole, 98, of Chelmsford, passed away Tuesday, September 26, 2017 at Palm Manor Nursing Care Facility with her loving daughter by her side. She was the widow of the late Gerald P. Cole, Sr., CPA, deceased in October of 2006, with whom she had celebrated 65 years of marriage.  She was mother to Gerald P. Cole Jr., Esq., who passed in December of 1992. 
Margaret was born in Lowell on July 22, 1919, daughter of the late John and Winifred (Armstrong) Broderick.  She was also pre-deceased by her sister Madeline and brothers Bernard, James, John, and Martin Broderick.  She grew up in the Back Central neighborhood, was educated at St. Peter's school and graduated from Lowell High School with the Class of 1937.
For the past 66 years, Margaret made her home in Chelmsford including recent residence at Palm Manor Nursing Home and was a communicant of St. Mary Parish.  Throughout her lifetime and in addition to her career as homemaker, Margaret was actively involved in many charitable and civic organizations, including the Middlesex Women's Club, the Association of the Miraculous Medal, the Holy Name Society, Seton Guild, the Ladies of St. John's Hospital, the CPA Wives Association, the Women's Democratic Club, the Lowell City Club, St. Peter Sodality, the Whistler House Museum and the Irish Genealogical Society amongst others. 
She also held membership in Saints Memorial Hospital Foundation, and longstanding membership with her family at the Vesper Country Club and Longmeadow Country Club.  
Margaret was honored for her outstanding time and dedication in volunteering over 5,000 hours at St John's Hospital in Lowell.
She was a true Irish beauty, loved for her great heart, exceptional good cheer and generosity of spirit always.
Margaret is survived by her daughter Patricia Ann Margaret Cole of New York City, brother Joseph Broderick of Hudson, N.H. and sister Mary Lewis of Lowell.  Margaret also leaves behind many nieces, nephews and their respective families including Joan Broderick, Donna Currie , Karen Rothschild, John Broderick, Michael Broderick, Gail and Paul Mitchell,  Susan and Paul Spanos, Mary E. and William Posey,  Patricia and Steve Winalski, Kathleen and John Caisse, Maureen and Arthur T. Demoulas , William and Louise Lewis, Gerard and Caren Lewis,  Anne M. and Scott Clegg,  Matthew Brennan and Rosane Rosa, Peter Brennan and Catarina Ferreira, Timothy and Norma Brennan, Kathleen and Patrick Connerty, and cousins Margaret Deslauriers and Eileen and Michael Violette and families, and the O'Hara and Armstrong cousins residing in County Sligo, Ireland.
COLE – You are invited to her calling hours from 4 to 8 pm Friday, September 29 at the MCDONOUGH FUNERAL HOME, 14 HIGHLAND STREET, LOWELL 978-458-6816. 
On Saturday, September 30, her funeral will be offered at 9 am at St. Mary Church 24 North Road, Chelmsford. Burial in St. Mary Cemetery, Tewksbury, MA. 
Margaret and family will always be grateful for the exceptional loving care and kindness received at Palm Manor Nursing Facility. 
Memorials in her name can be directed to Palm Manor Nursing Home Activities Department, 40 Parkhurst Rd. Chelmsford Mass. 01824  
978-256-3151 or to the charity of your choice.