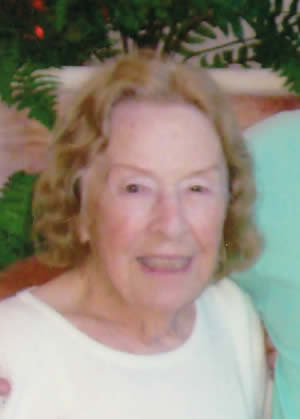 Margaret E. 'Mate' Ennis
"Beloved Mother, Grandmother and Great Grandmother"
LOWELL Margaret E. ' Mate' (O'Brien) Ennis, 97, of St. Petersburg, Florida, formerly of Billerica, died Thursday, April 25, 2013, at Lowell General Hospital, after a long period of declining health. She was the widow of the late Edward Raymond Ennis.
A daughter of the late William H. O'Brien and the late Nellie (Campbell) O'Brien, she was born October 26, 1915, in Billerica, and was educated in the local schools. She grew up locally, and since the 1970's made her home in St. Petersburg, Florida.
She worked as a coordinator for Hanscom Air Force Base until she retired.
Margaret followed the Boston Sports scene, and was an avid fan of the New England Patriots, but was a dedicated fan and follower of the Boston Red Sox. She also enjoyed playing cards, mostly cribbage, and liked to walk and play tennis.
She is survived by her children, June McGrath of Seabrook, NH, Raymond W. Ennis and his wife, Peggy, of St. Petersburg, FL, and Jo-Anne Mullen of Townsend; her eleven grandchildren
John McGrath, Jr., Daniel McGrath, Michael McGrath, Dennis McGrath, and Matthew McGrath, Bethany Linstad, Heather Ocasio, Michael Mullen, Colleen Ennis, Mary Kate Ennis, and Ray Ennis, Jr.; her nine great grandchildren, Johnny, Ryan, Jake, Joe, Katherine, Sean, Nicholas, LaKendra and Dante; and her nieces and nephews.
She was also a sister of the late Marie McNulty and the late William O'Brien.
AT HER REQUEST, CALLING HOURS HAVE BEEN OMITTED AND HER FUNERAL TOOK PLACE PRIVATELY.ARRANGEMENTS BY THE MCDONOUGH FUNERAL HOME, 14 HIGHLAND STREET, LOWELL (978 OR 800) 458-6816. E-CONDOLENCE SITE WWW.MCDONOUGHFUNERALHOME.COM.