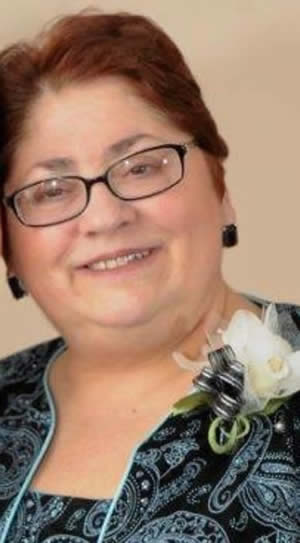 Marcella A. 'Marcy' (Bergeron) Rondeau
LOWELL    Marcella A. 'Marcy' (Bergeron) Rondeau, 66, of Lowell, passed away after a lengthy illness Sunday, September 3, 2017 at Brigham and Women's Hospital in Boston.
She was born in Lowell on March 5, 1951 and was a daughter of the late Leo J. Bergeron and the late Marcella H. (Aaron) Bergeron. She was raised in Lowell and was educated in the local schools including Sacred Heart School, Lowell High School, and Middlesex Community College. She later studied Radiology and Medical Assisting and graduated from Leslie University in Cambridge. She then earned her Masters Degree in Teaching from Fitchburg State University.
Marcy worked as a server and bartender at the LaFayette Club in Lowell and the Courthouse in Chelmsford. She retired from St. Margaret School after teaching for several years. She enjoyed watching sports, especially the Red Sox, tennis, golf and boxing matches. She loved playing games with her grandson, playing bingo, and traveling to Las Vegas and Foxwoods. For many years, she was in a dart league and a pool league.
Marcy is survived by her daughter, Marcia Jones and her husband Rick of Londonderry, NH; and her grandson, Sawyer Jones of Londonderry, NH. She is also survived by her sisters, Joan H. Wilkins of The Villages, FL, Paula Mansur and her husband, John of Hudson, NH and Mary-Ellen Bergeron-Naper and her husband, Mark of Lowell; and several nieces and nephews
She was predeceased by her son Leo Rondeau, and by her siblings Richard L. Bergeron, and Janet McArdle; and her brother in law, the late Fred Wilkins.
           ON FRIDAY, SEPTEMBER 8, YOU ARE INVITED TO HER CALLING HOURS FROM 4 UNTIL 8 P.M. AT THE MCDONOUGH FUNERAL HOME, 14 HIGHLAND STREET, LOWELL  978-458-6816. 
YOU ARE WELCOME TO ATTEND HER FUNERAL ON SATURDAY, SEPTEMBER 9, PLEASE GATHER AT THE FUNERAL HOME BETWEEN 9A.M. AND 10A.M.. HER FUNERAL SERVICE WILL BE HELD IN THE FUNERAL HOME AT 10 A.M.. CREMATION TO FOLLOW. 
IN LIEU OF FLOWERS, DONATIONS MAY BE MADE IN HER NAME TO THE NATIONAL KIDNEY FOUNDATION, 85 ASTOR AVE, SUITE 2, NORWOOD, MA  02062.